A home appraisal may not be top of mind. However, maybe it should when you're looking to buy, sell, or refinance a home. An appraisal determines for the seller, the buyer, and the lender how much a home is worth. The purpose is to protect the home buyer and the lender from paying too much. As such, the home appraisal process can be a bit nerve-racking for sellers. Sellers are eager to see what financial value a professional appraiser places on their home. This can also be very stressful for the buyer as well. Buying a home is one of the biggest purchases you'll make during your life, so it should come as no surprise that many home buyers are worried after purchase that they overpaid. Therefore, the more informed a buyer is, the better.
WHAT TO EXPECT FROM A HOME APPRAISAL
When associated with a mortgage, an appraisal is a risk-prevention step for the lender that ensures the house is worth more than the amount of money that the buyer wants to borrow for the purchase. Although the buyer pays for the appraisal, the lender is essentially the appraiser's client and often specifies an "acceptable appraisal" as a contract contingency.
Most purchase offers are dependent on a property appraising for at least the contract price. From that perspective, it's to the borrower's advantage to know that they aren't overpaying for a property. To better understand this important step in the purchase process and boost your buying confidence, keep on reading for home appraisal tips.
WHAT IS A HOME APPRAISAL?
An appraisal provides reassurance of a property's value. In other words, it's an objective estimate of the value of your property. A licensed appraiser with no connection to the buyer, seller, or lender provides the home appraisal using the condition and location of your property, plus comparable sales and market trends. Moreover, home appraisals aren't public records, but appraisers use public property records and other public documents to support their appraisals.
Some sellers have their homes appraised before listing them on the market to help arrive at a fair asking price.
If you want to buy a home, you'll need an appraisal. In fact, for buyers, an appraisal is a requirement for most mortgages, both government-backed and conventional. Statistics from the National Association of Realtors (NAR) show that of all the sales that closed in November 2019, 73% had contract contingencies, such as obtaining an acceptable appraisal (43%), financing (43%), or a home inspection (53%). Furthermore, no credible financial institution will lend money for a house without one. In fact, most real estate transactions legally require them. The bank doesn't want to be stuck with a home that can't sell for what you owe on it. The homebuyer shouldn't want that either, of course.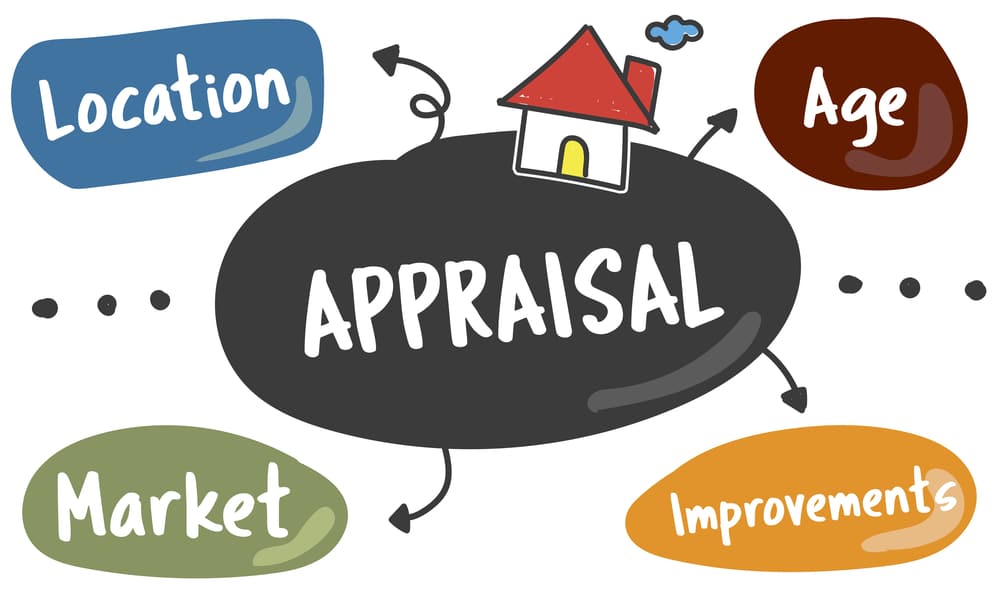 THE VALUE OF A HOME APPRAISAL
The appraisal helps the lender understand the home's value in case the property must sell sooner rather than later. A lender not only uses the appraisal as a quality check but also to arrive at a loan-to-value (LTV) ratio — basically, how risky the loan is for the lender. This ratio is calculated by dividing the amount borrowed by a property's appraised value, then expressing the result as a percentage.
For example, if a property appraises at $200,000, and the buyer has $40,000 to put down on the home, then the buyer will need to borrow $160,000 from the lender: $160,000/$200,000 = 0.80, or an 80% loan-to-value ratio. If your LTV ratio is at or below 80%, you pay a lower interest rate, plus you won't have to pay private mortgage insurance (PMI), reducing your monthly mortgage payments.
A property's appraised value also indicates how much you'll pay in real estate taxes — and gives you an idea of how improvements you make can add to your home's equity. Appraisals can complicate real estate transactions. An appraisal could reveal that an agreed-upon sales price is not on target with a home's value.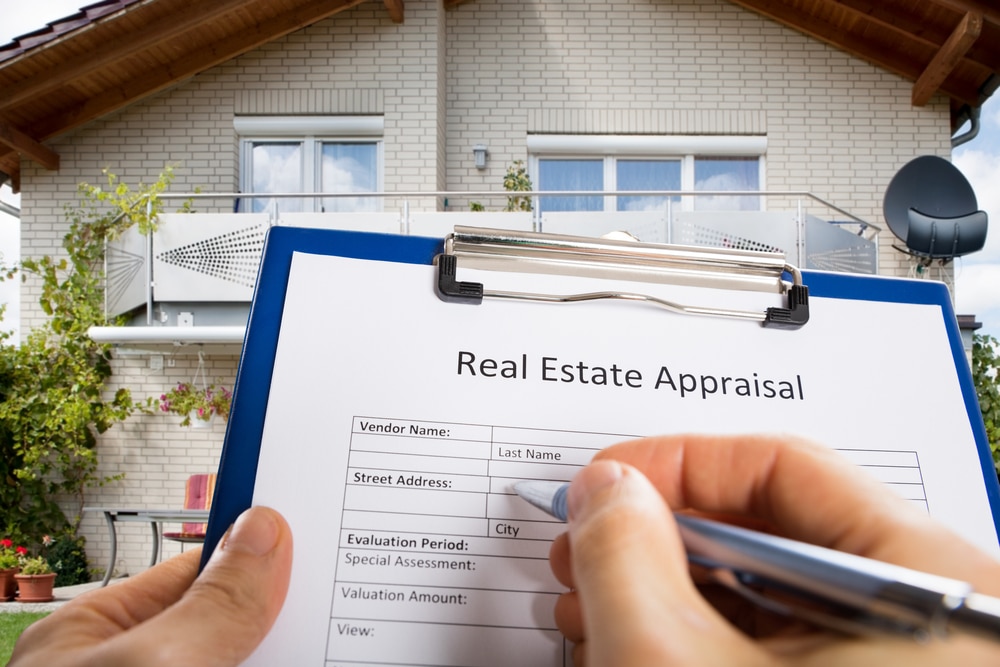 REQUIREMENTS FOR APPRAISERS
The Uniform Standards of Professional Appraisal Practice, otherwise known as quality control standards, require an appraiser to be impartial and not favor a predetermined outcome. A lender doesn't usually contact an appraiser directly. Instead, a lender typically uses a third-party appraisal management company to find and hire an appraiser in the buyer's area.
Appraisers need to be objective and impartial. They must never take an assignment contingent upon "hitting a number," the Appraisal Foundation says, and they cannot accept assignments where they can't be independent and objective.
That said, appraisers rarely fail to confirm the contract price. Researchers at the Federal Reserve Bank of Philadelphia found that roughly 30% of appraisals precisely equaled the contract price. Another study of two decades' worth of appraisals submitted to the Federal National Mortgage Association, commonly known as Fannie Mae, found more than 90% valued homes at or above the purchase price. In nearly one-third of purchases over the same time period, this study shows, appraisals valued properties at exactly the sales price.
There is some negotiation around this process already, however. NAR statistics show that of the 23% of contracts that were delayed but eventually closed in November 2019, 18% had appraisal issues.
HOME APPRAISAL TIPS
You can't (and shouldn't!) do anything to influence the appraiser, but you can prepare yourself for what's to come.
1. KNOW WHAT FEATURES IMPACT HOME VALUE
One of the most important home appraisal tips is to know what features impact home value. An appraiser looks at the age of the home, the square footage, the layout, the location, utilities, and various upgrades or renovations. An appraisal also includes an assessment of the home's condition, such as whether any components are new or show deferred maintenance, deterioration, depreciation, or wear and tear. Yes, small repairs can make a big difference. That includes basic fixes, such as caulking cracks in walls or painting a once-leaky ceiling.
An appraisal is not equivalent to or a substitute for a home inspection, which is a nuts-and-bolts analysis of a home's construction and its systems. However, some lenders appraising homes for VA loans or FHA loans will require an appraiser to note particular items on a property, such as chipped or peeling paint, or a lack of handrails on stairways.
In addition, appraisers also notice obvious safety violations, such as a lack of smoke detectors. In addition, they take into account any conditions that could affect an owner's ability to use the property the way they want, such as substandard construction or the home's location within a flood zone.
A listing agent should ensure that the sellers grant the appraiser access to all areas of the home, similar to when a home inspector visits the property.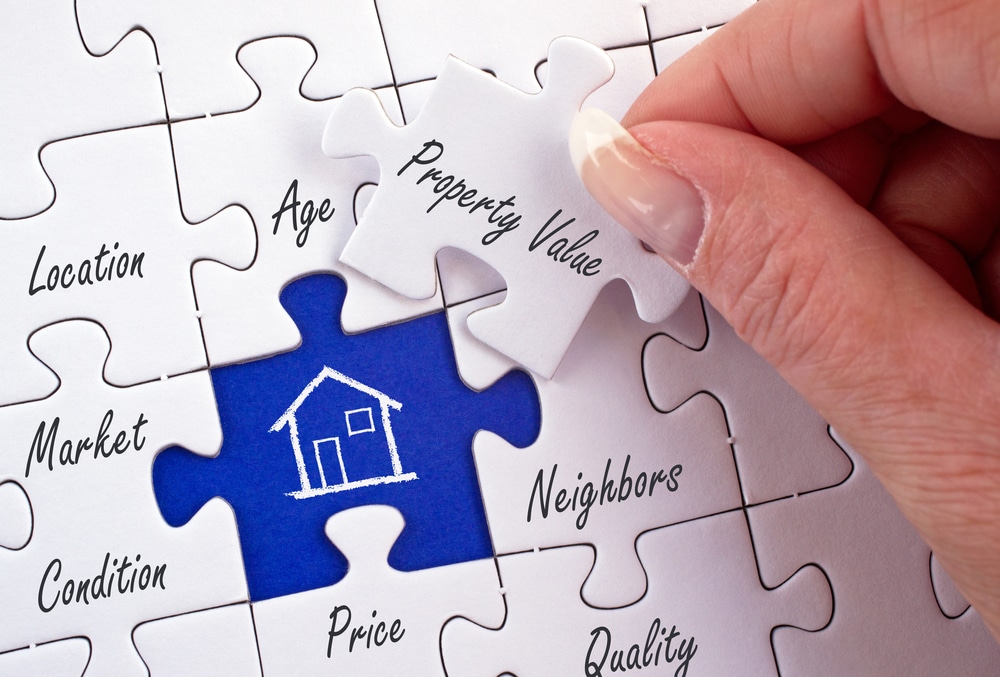 Make Sure the Property is in Tiptop Shape
One of the most important home appraisal tips is to know what features impact home value. The appraiser should be able to see the home's potential. Your decor may not be a factor, but curb appeal and upkeep can influence your home's appraised value. Therefore, mow the lawn, pull the weeds, and trim the hedges before the appraiser comes over.
Location
How close is the property to a metropolitan area? To schools? How does its size compare to other properties in the area? In general, a bigger footprint means more value, but if it's an older home, higher maintenance and energy costs could offset the value of more space.
Prepare a List of Recent Home Improvements
You'll want to note if you put on a new roof or siding, or upgraded your furnace, and when. Those features can make a home more valuable. Need home improvement ideas? Be sure to check out the Home Improvement & Renovation Projects blog post as well as the Home Improvement Ideas blog post. At the same time, don't get too excited if you've spent a lot on repairs and renovations. It's important to note, that your $30,000 kitchen remodel may help the appraisal, but it won't automatically mean that your house is worth an extra $30,000.
Verify Permits
'Buyer to verify all permits' is a red flag. If an appraiser suspects something like a finished basement or converted garage wasn't built properly as living or rentable space, they'll ask to see permits.
2. UNDERSTAND THE VALUE OF OTHER HOMES IN YOUR AREA
One way that appraisers calculate a home's value is to compare it to properties that have sold recently that have similar characteristics, such as age, square footage, and proximity. If you're selling a home, the agent should provide as much information as possible to help the appraiser. The idea is to get the desired selling price. The listing agent also can provide comparable properties, or comps, to show how the sellers arrived at an asking price.
It's recommended that sellers provide the most recent tax bill or legal description of the property, any items to be sold with the home (such as appliances), home inspection reports, and a "brag sheet" of the cost, date, and permitting for major home improvements. This helps appraisers find the most accurate comps for the home.
Buyers' agents also often find comps to explain their perceived value. Real estate agents should always be prepared to show an appraiser why they're paying more for the house or less for the house, or just generally why my people identified this as something they want to live it for the next number of years.
Comps might not always provide a clear picture of a home's value, however. In areas where homes don't sell very quickly or there aren't very many homes for sale — such as rural markets — finding recently sold comparable properties could be a difficult challenge. And homes with unique features, such as a sweeping view or a waterfront location in a landlocked state, can also present challenges when an appraiser tries to find appropriate comps.
3. BE PATIENT
Five to ten working days is a good time frame for an appraiser to turn around an appraisal report. Uncooperative parties, a lack of permits, defective or dangerous conditions, and other issues can all factor in for added time for the job to be done right. Moreover, the size of the property and the availability of appraisers in your area can impact the turnaround time and the cost.
4. DISCUSS YOUR OPTIONS
If the appraisal comes in at or around the purchase price — or higher than that — you're in good shape. If the appraisal comes in below contract price, buyers have three choices. These include: renegotiate with the seller, make up the difference in price, or walk away.
A buyer can choose to pay more than what the appraisal says a property is worth. However, they're doing so with full knowledge that the market data doesn't support the contract price, and they're 'upside down' from day one. This means that the buyer might owe more money for the house than it's actually worth.
In a competitive situation with multiple buyers and bids, buyers may say they're willing to cover the first $10,000 or 1% to 2% of an appraisal shortfall. You may be asking yourself — why would someone choose to pay more? Sometimes you have to cover more so that the deal could fall apart.
In those cases, the buyers are already thinking of repainting and so on to make the house their own. At that point, the extra 1% or 2% usually doesn't make that much of a difference. Moreover, buying a house is typically a long term investment. Most homeowners stay in their homes for 10 or more years. It's important to think of the bigger picture.
5. CONSIDER AN APPRAISAL REEVALUATION OR AN INDEPENDENT APPRAISAL
Negotiations aside, if the appraisal price seems much lower than the contract price, your agent (or the listing agent) can ask the appraiser to reevaluate their report. Sometimes appraisers can make mistakes in the basic data. For instance, the number of bedrooms or baths. Or maybe, they need context for the comps, such as if a recent sale for a lower-than-typical price was between family members — or if a more-recent sale is available that changes the perspective.
You also can pay for an independent appraisal. All states require appraisers to be state-certified or licensed, but as in any profession, some appraisers are more qualified than others. While it might not be economical, a separate appraisal could be worth the peace of mind, depending on the property and the situation.
HIRE A REAL ESTATE AGENT
Talk with your real estate agent about their experience with the appraisal process, how they'd recommend handling any shortfall — and how willing you should be to walk away from a deal that's not right for you. The excitment over your purchase won't last if concerns about whether you overpaid give you buyer's remorse.
For one-on-one help getting started, be sure to contact John Wanninger. Looking for more resources to help guide your buying or selling experience? Be sure to check out these blogs: First Time Home Buyer Tips and Home Buying Tips That Will Always Be Helpful.
---
John T. Wanninger is a well-known real estate agent specializing in luxury homes, properties, and condominiums. John leads the JTW Partners group at Lakes Sotheby's International Realty in Edina, Lake Minnetonka, and the North Loop.
Check out John's listings to see all available properties. John represents an array of homes including single-family homes, new construction homes, lakefront properties, and more. Contact John to set up an appointment or to list your house for sale.
Don't forget to follow John's social media! Stay up to date with his Instagram, Facebook, and LinkedIn.