Are you ready to take on some home renovation and improvement projects this year? The 2020 Cost vs. Value Report analyzed regional data from the West North Central states, including Minneapolis, Minnesota, in order to determine the best remodeling value of various home projects.
If you're like most homeowners, your home is probably your biggest investment. You want that investment to perform as well as possible, so if you think you may sell your home some time soon, it makes sense to do as much as you can to boost its value.These tips are great for everyone looking to update their home, and for this year's sellers. Take a look at these at-home projects so your renovations can not only look great, but also provide you with the best return on investment (ROI).
THE BEST HOME RENOVATION PROJECTS FOR HOMEOWNERS & SELLERS
MINOR KITCHEN REMODEL – MIDRANGE
If you're hoping to make a larger upgrade within your home renovation, your focus should go to the kitchen. In functional, but dated kitchens, there are a few key aspects to focus on, including cabinets, countertops, energy-efficient appliances, flooring, and wall color. Replace cooktop/oven range and slide-in refrigerator with new energy-efficient models. You can replace laminate countertops, as well as install a mid-priced sink and faucet. Moreover, add new resilient flooring. And finally, finish with painted walls, trim, and ceiling.
A minor kitchen remodel has an estimated cost of just under $26,700. The Remodeling 2020 Cost vs. Value report predicts a 61.9 percent ROI at resale. By transforming these aspects of the kitchen, you'll be well on your way to an updated and exciting space.
MAJOR KITCHEN RENOVATION – UPSALE
As previously mentioned, if you are going to pick one place to focus your home renovation on, go with the kitchen. It's time to update outmoded 200-square-foot kitchen with 30 linear feet of top-of-the-line custom white or grey cabinets with built-in sliding shelves and other interior accessories. Moreover, add stone countertops with imported ceramic or glass-tile backsplash. Other items to think about include a built-in refrigerator, commercial-grade cooktop and vent hood, wall oven, and built-in microwave unit. Furthermore, install high-end undermount sink with designer faucets and water filtration system. In addition, you can add new lighting, including ceiling lights and low-voltage under cabinet lights. Finally, install tile or similar flooring that looks like wood.
A major, upscale kitchen remodel has an estimated cost upwards of $146,700. The report predicts a 46.1 percent ROI at resale. By transforming these aspects of the kitchen, you'll be well on your way to an updated and exciting space.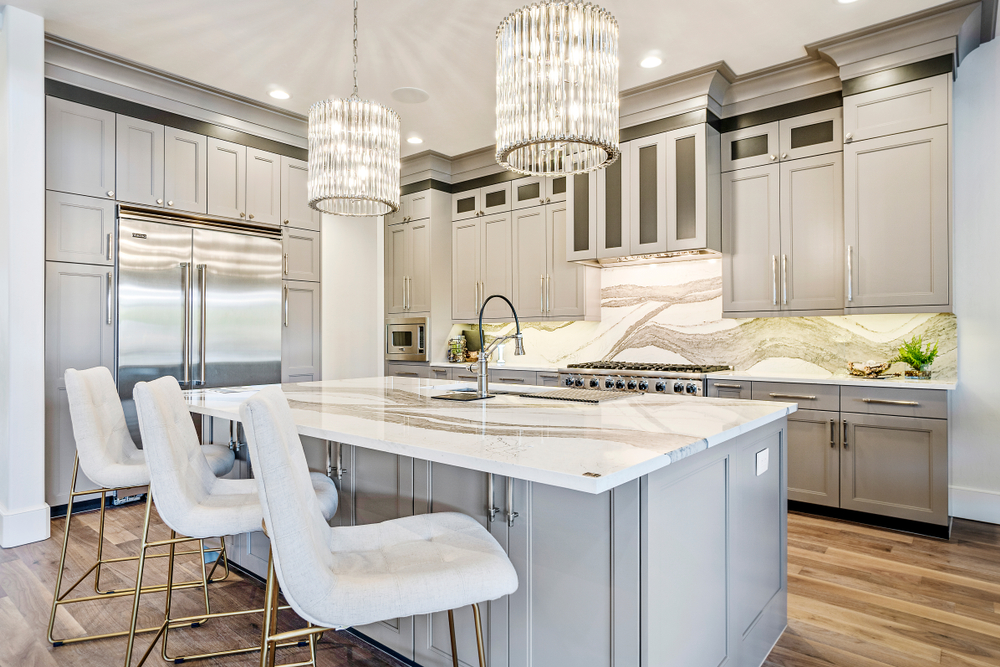 SIDING REPLACEMENT
It's recommended that siding be replaced every ten to fifteen years. So, if the outside of your home is beginning to look dingy or you're ready for a fresh exterior color, look into replacing your home's siding. There are two major siding replacement options, including fiber cement and vinyl. Replace your existing siding with new fiber-cement siding, factory primed and factory painted, and installed to manufacturer's specifications. Include factory trim at all openings and corners. The same goes for vinyl siding.
You should expect to spend around $19,000 for the equipment, labor, and replacement of a fiber-cement siding. A vinyl siding replacement should cost around $16,000. A fiber-cement siding replacement can typically provide an 68.5 percent ROI for Minnesota homeowners. Meanwhile a vinyl siding replacement usually provides a 56.4 percent ROI. This makes perfect sense — buyers who are searching online will be able to tell the difference between aging siding and a brand-new facade. Homes in tip-top condition will be viewed more favorably.
GARAGE DOOR REPLACEMENT
Upgrading a garage door is one of the smartest investments a homeowner can make. In fact, according to the latest Cost vs. Value Report, replacing a basic garage door with an upgraded one is one of the top ranked renovations in the study.
A high-end garage door replacement offers a high ROI of 96.1 percent and the upfront cost can be around $3,900. Similar to the entry door replacement, a simple garage door swap-out can provide a big impact on the curb appeal of your home. When choosing a new garage door, select a motorized door on heavy-duty steel tracks.
And, after choosing what color you'd like your new garage door to be, take a look at the different garage door styles. A variety of traditional, contemporary, and unique garage doors exist. The door profiled in this report includes windows in the top panel, which will add to the cost. However, these are said to pay off at resale.
MANUFACTURED STONE VENEER
Adding a stone veneer to the front entrance of your home can add ultimate curb appeal. This renovation has a 67.7 percent ROI, making it the top choice for Minnesota homeowners who want to make their money back. The cost of the project is estimated at about $10,700. It's important to note, however, the costs for each of the projects mentioned will depend on the individual home, materials used, and contractors selected.
Stone veneer siding can give a typical suburban or urban house an extra boost of visual interest. So, if you want your home to stand out from the rest of the houses on the block, be sure to consider adding a stone veneer to your list of potential renovations.
BATHROOM REMODEL
Bathroom remodels can also be a great home renovation project. So why not update your bathrooms? Replace all fixtures to include a porcelain-on-steel tub with ceramic tile surrounding. Add a new single-lever temperature and pressure-balanced shower control and a standard white toilet. Moreover, add a solid-surface vanity counter with integral sink and new faucet. Finally, add a recessed medicine cabinet with light, ceramic tile floor, and vinyl wallpaper. Bathroom remodels typically cost around $25,000, and have a ROI of 51.4 percent.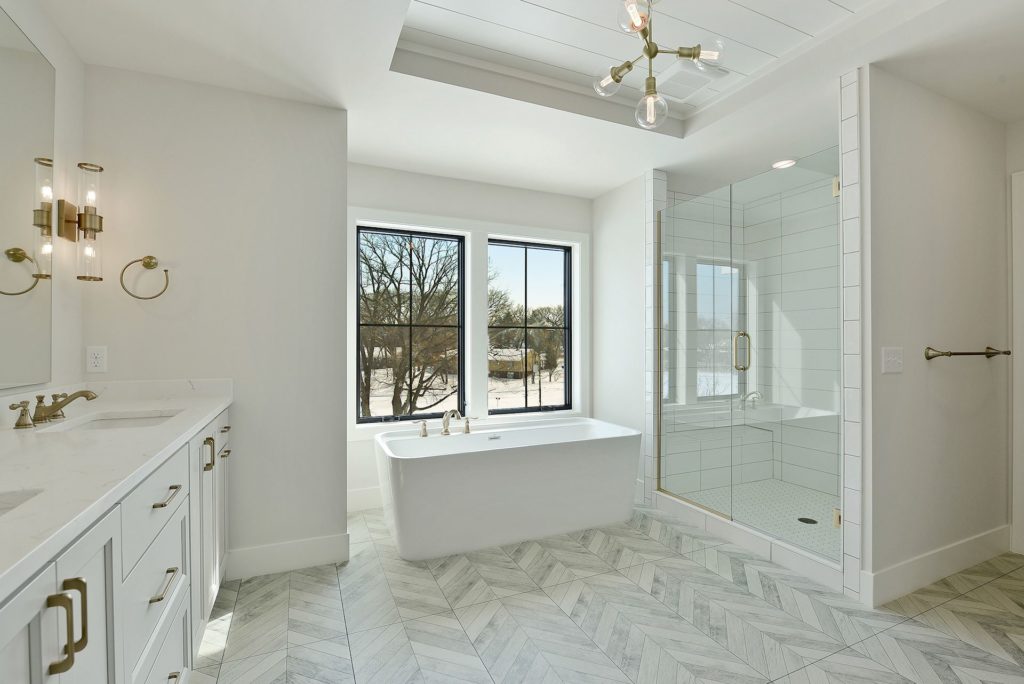 WHY AND WHEN IS THE BEST TIME FOR HOME RENOVATION PROJECTS?
Home renovations are about more than just a financial return on investment upon resale. You should also consider how much of the upgrade you'll be able to enjoy before you put your home on the market. If, for example, you've been hoping to upgrade your kitchen for a while, take on the renovations with enough time to enjoy your new cooking oasis before you sell your home.
By modernizing your house at a time that benefits you, you'll be able to enjoy the upgrades now, then sell it for more down the road. Therefore, you'll ultimately get both a lifestyle and financial ROI. If you're renovating with the hopes of selling your home now, reach out to John Wanninger. John is an industry veteran who can set you up for success throughout the home purchase process.
---
John T. Wanninger is a well-known real estate agent specializing in luxury homes, properties, and condominiums. John leads the JTW Partners group at Lakes Sotheby's International Realty in Edina, Minnetonka, and the North Loop.
Check out John's listings to see all available properties. John represents an array of homes including single-family homes, new construction homes, lakefront properties, and more. Contact John to set up an appointment or to list your house for sale.
Don't forget to follow John's social media! Stay up to date with his Instagram, Facebook, and LinkedIn.