LAKE MINNETONKA IS 125 MILES OF LAKESHORE
Lake Minnetonka is an inland lake located roughly 15 miles west-southwest of Minneapolis. At 14,528 acres, Lake Minnetonka is the ninth largest lake in Minnesota. The lake nestles along 125 miles of shoreline. With the name, Lake Minnetonka brings two centuries of tradition. Moreover, Lake Minnetonka is shorthand for the most prestigious of lifestyles. This is an insider's guide to Lake Minnetonka. Answering everything you wanted to know, but never had the chance to ask. Learn about the history, the lifestyle, the culture, and the real estate that make up Lake Minnetonka. Navigating in and out of the various towns, areas, and bays can be confusing, especially for outsiders. Don't worry, we'll point out the best bays and the most desirable places to live, shop, dine, and more.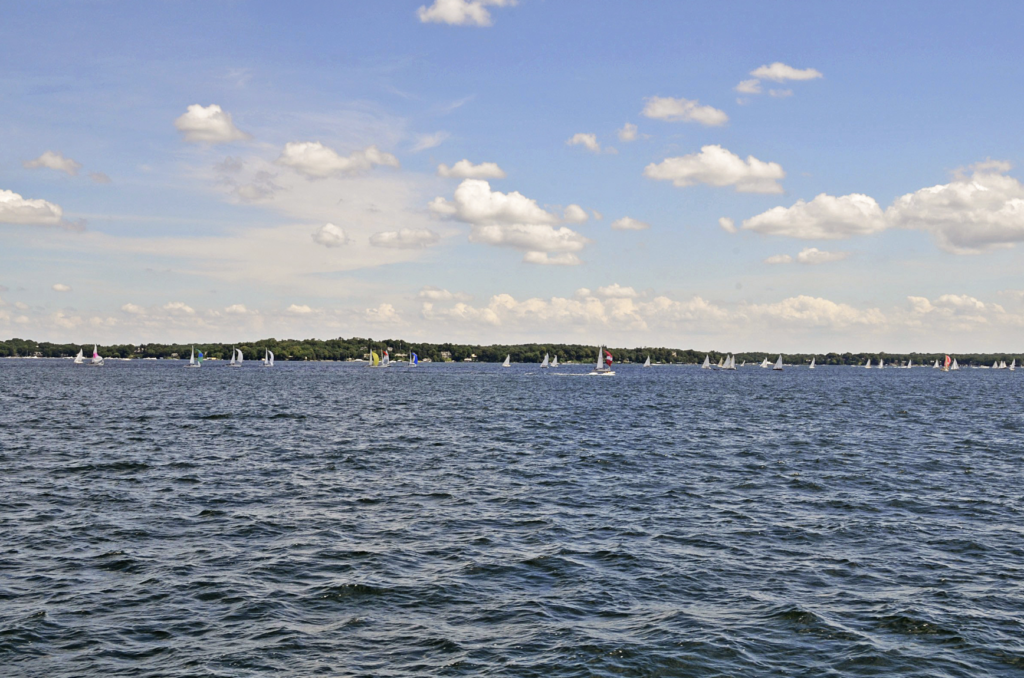 A Brief History of Lake Minnetonka
Back in 1975, when Highway 12 was the primary two-lane thoroughfare between downtown Minneapolis and Wayzata, Mpls., an early version of Mpls St.Paul Magazine named its July cover story, "The Lake: Its Place, Its People, Its History." The author, Dave Mona, proclaimed that "Tonka chic" could be achieved by living in Cottagewood, owning a Lund Runabout and a Ford LTD wagon, shopping at Nygren's in Excelsior, having season tickets to the Guthrie, dining out at the Spring Park Soda Fountain, and skiing at Lutsen.
Lake Minnetonka has come a long way since the '70s. To this day, it remains a source of inspiration, fascination, and profuse commercial and social opportunity. Moreover, it represents decades of graciousness and luxury.
LAKE MINNETONKA IS MINNESOTA'S VERSION OF THE HAMPTONS
In many ways, Lake Minnetonka is Minnesota's version of the Hamptons. There are many similarities between Lake Minnetonka and the fancier, more fabulous towns in the Hamptons on the eastern edge of Long Island. Both areas are home to high-end restaurants, bars, and designer boutiques. Moreover, they're both marked by long stretches of beach that are lined with immaculate homes.
Wayzata = East Hampton
First up on the list is Wayzata, which many could argue is the East Hampton of Lake Minnetonka. Wayzata and East Hampton are both considered the most prestigious areas in their respective communities. Two picturesque villages with more flash, more boldfaced names, and more fashionable retailers than their low-key neighbors.
Deephaven = Bridgehampton
Deephaven is very similar to Bridgehampton. Both of these wonderful areas make you feel like you're in a Ralph Lauren ad. You're surrounded by beautiful people and their even more beautiful houses.
Excelsior = Sag Harbor
The former whaling village of Sag Harbor feels a lot like Excelsior, with a unique downtown scene, movie theater, and more.
Maplewood = Southhampton
Maplewood and Southhampton are two quiet areas that feel like summer colonies. You will often find dowagers, bankers, and attorneys tucked safely behind tall green hedges in both of these locations.
Orono = Sagaponack
Orono is very similar to it's Hamptons' cousin, Sagaponack. Both towns are a lush, rural paradise with stunning water views and acres of unobstructed wealth.
Big Island = Shelter Island
Like its Lake Minnetonka cousin, Shelter Island is just minutes from the mainland. Both of these tiny islands offer a blissful escape from everyday life.
LAKE MINNETONKA TODAY
The many small cities and towns that have sprung up around the shores of Lake Minnetonka have come together to create a truly lively and vibrant area. The communities are active with festivals and events to fill up the calendar. Moreover, there is a great number of restaurants, cafes, and unique boutiques. Of course, the lake itself is alive and prime for a wide variety of recreation. The unique irregular shape of the lake has created a vast number of bays and peninsulas. The fresh blue waters are ideal for the aspiring angler, teaming with a wide variety of fish including bass, northern pike, carp, and black bullheads. Lake Minnetonka homes for sale offer the opportunity for homeowners to become a part of a bustling resort community, with a little piece of vacation waiting at home each night.
Lake Minnetonka homes are located just 8 miles from the downtown area of Minneapolis. This proximity to the larger city has made Lake Minnetonka an important resort and vacation area for residents of the city. This close proximity has long made the communities that line the lakeshore attractive and sought after suburban, bedroom neighborhoods to the larger metropolitan city. This long history is apparent from the historic downtown areas of many of the cities that line the lake and also in the vintage steamboat that still shuttles residents and visitors alike to the many corners of the lake. Even the lake's name hints to its long history in the area, coming from minn-ni-tank meaning "big water" in the Dakota language. To view available homes for sale in Lake Minnetonka, click here.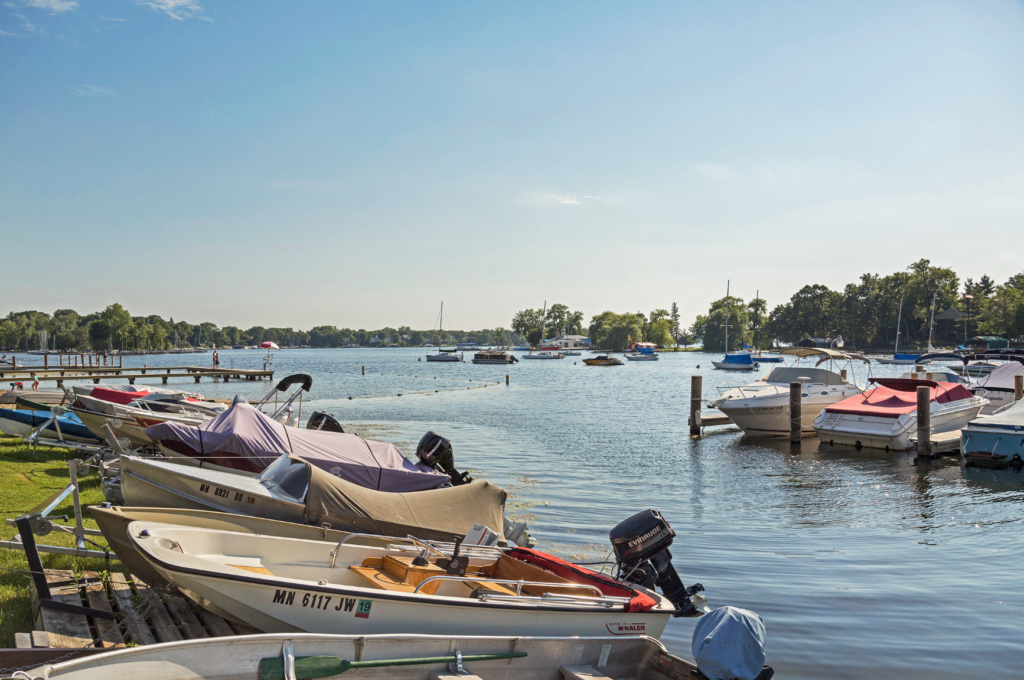 FINDING THE RIGHT ADDRESS
Where to Live the Good Life Near Lake Minnetonka
Lake Minnetonka is full of magnificent features. It consists of 125 miles of lakeshore and 25-odd bays. There are more than a dozen towns, a brace of islands, and private marinas. Moreover, there are a dozen liquor stores, seven country clubs, and numerous ice cream shops. In addition, there are independent bookstores, pet shops, and countless restaurants. To help decide where you fit in, here are the most popular towns and neighborhoods in the area. These are organized geographically and alphabetized to obscure favoritism.
In the North
Orono
Orono is a city on the north shore of Lake Minnetonka, with a population of around 8,000. From safety to beautiful, scenic trails and a friendly community, Orono has it all. It's no wonder Orono is such a desirable city for home buyers. What makes Orono one of the best neighborhoods is its large lot sizes that contribute to a rural neighborhood feel. The city is the best of both worlds, with neighbors close enough to build friendships and far enough removed for a feeling of privacy. Plus, there is plenty of space for neighborhood barbecues.
Orono is Lake Minnetonka's Town and Country, where local bluebloods, new money gentry, and their horses co-exist. A three-acre minimum and a five-star school are sources of local pride. Moreover, Orono is home to generations of Crosbys, Cargills, Pillsburys, Pipers, and Jaffrays.
Wayzata
Wayzata is a city on the northeast tip of Lake Minnetonka. It is one of Minnesota's most affluent municipalities, with nearly 4,500 residents. Moreover, Wayzata the social center of Lake Minnetonka, popular among boaters, shoppers, and restaurant-goers. Living in Wayzata offers residents an urban feel and most residents own their homes. In Wayzata, there are a lot of parks and recreation areas. Dakota Rail Regional Trail and Wayzata Beach are two of the most popular places for residents and visitors to go. Furthermore, public schools in Wayzata are highly rated. In fact, Wayzata High School is ranked in the top 1,000 public high schools in the United States.
In the East
Deephaven
Deephaven is also a city on the shores of Lake Minnetonka, located 12 miles west-southwest of downtown Minneapolis. The city has a population of just over 4,000. Furthermore, Deephaven is home to the Minnetonka Yacht Club. Some may say Deephaven is Martha's Vineyard of Carson's Bay. Between sailing off Lighthouse Island, tennis at the public courts, and neighborhood get-togethers at the quaint Cottagewood General Store, it's the good life done better.
In the West
Minnetonka Beach
Minnetonka Beach is more enclave than a neighborhood per se. Moreover, the city of the village of Minnetonka Beach is a boot-shaped peninsula located on Lake Minnetonka. Although the city is small, with only about 250 homes and 600 residents, it's still one of the best places to live. Minnetonka Beach feels like vintage New England, even as tiny cottages give way to grander, more fabulous family homes.
Minnetrista
Minnetrista is on the western edge of Lake Minnetonka. The city is generally rural, however, some argue that it is on or near the boundary between suburbs and rural areas. Furthermore, Minnetrista is a Northwest Territory-turned-suburb with palatial "new builds" and a big-ticket golf course. The name Minnetrista comes from the Dakota language, in which minne means "water" and trista means "crooked." The city has a total area of 30.76 square miles and a population of over 6,300.
Mound
Mound is about 22 miles west of downtown Minneapolis. This city has a population just shy of 10,000. Mound is a downscale lake community, with prices to match. It serves the pricier lake towns in much the same way that West Palm Beach serves Palm Beach. Furthermore, it's considered sacred by the Dakota Indians.
Navarre
Navarre is a small village nestled between the southwest corner of the Upper Lake and northeast corner of the Lower Lake. Moreover, Navarre is the gateway to Mound. Navarre feels like a Brainerd Lakes crossroads without guile or pretension.
Spring Park
Spring Park is located on Lake Minnetonka and has over 4 miles of shoreline while being less than 0.5 square miles in area. The city has a population of just under 2,000. This small stretch of lake is home to Lord Fletcher's. In addition, Spring Park hosts a row of funky lake cottages with cars for sale in the front yards, interspersed with towering two-lot trophy homes.
In the South
Excelsior
Excelsior is approximately 15 miles southwest of downtown Minneapolis on the southern shore of Lake Minnetonka. In addition, Excelsior has an estimated population of more than 2,300 people. Here, you can take a ride on Steamboat Minnehaha!
Greenwood
Greenwood is one of the smallest cities on Lake Minnetonka, with a population of just over 800. In total, the city spans 227 acres. Rumor has it that the residents of Greenwood on St. Albans Bay seceded from Shorewood so that they could make their own lakeshore rules. Moreover, Greenwood is home to the Old Log Theater and Adele's luscious frozen custard.
Shorewood
Shorewood has a population of nearly 8,000 residents. The city has a total area of 13.33 square miles, 5.34 of which is land and 7.99 is water. Shorewood includes the Lake Minnetonka islands of Spray, Shady, and part of Enchanted.
Tonka Bay
Tonka Bay is neither Wayzata nor Excelsior, but residents seem to like it that way. Joey Nova's and Hazellewood have made this a destination for both fashion and food.
---
John T. Wanninger is a well-known real estate agent specializing in luxury homes, properties, and condominiums. John leads the JTW Partners group at Lakes Sotheby's International Realty in Edina, Minnetonka, and the North Loop.
Check out John's listings to see all available properties. John represents an array of homes including single-family homes, new construction homes, lakefront properties, and more. Contact John to set up an appointment or to list your house for sale.
Don't forget to follow John's social media! Stay up to date with his Instagram, Facebook, and LinkedIn.