WHAT DO DAYS ON MARKET ("DOM") REALLY MEAN?
Have you ever wondered what DOM means and why it's important? The National Association of REALTORS ® defines Days on Market or "DOM," as the number of days from the date on which the property is listed for sale on the local brokers' multiple-listing services (MLS) to the date when the seller has signed a contract for the sale of the property.
The important point is that homebuyers, and their Realtors, use DOM as a fast way to see which homes are fresh to the real estate market. As your home's DOM increases, prospective buyers will wonder why the home hasn't sold and wonder if perhaps it is time for a price reduction or buyers may feel emboldened to offer a lower price.
Think of Days on Market in relation to your favorite cake or pastry. Eventually, if you don't eat it, it goes stale. Just like a piece of bread or yesterday's news, a stale listing is not as appealing. When you're trying to sell, stale is definitely one thing you don't want your home to be in the real estate market. While there's no spoken rule for how long it takes a home to become stale, there is a key metric that tells buyers how long your home has been for sale. Known as days on market, or DOM, this metric counts up by one every day your home remains unsold.
LOW DOM VS. HIGH DOM
A related metric is the average DOM for homes sold in a market during a specified period. A low average DOM signals a strong market that favors sellers. A high average DOM indicates a weak market that favors buyers. There are many factors that can affect a home's DOM. Seasonality can play a large role in the DOM of a home. For instance, homes generally sell faster in spring than winter. Seasonality is especially impactful in real estate markets with snow and cold weather, like Minnesota. Summer vacation times can also impact DOM.
For the past few years, the United States has experienced a seller's market. For instance, in April 2017, the National Association of REALTORS ® found that the median DOM dropped to 29 days, the shortest time since the group began to track the metric in 2011. However, in December 2019 the National Association of REALTORS ® found the national median DOM was 41 days.

You might be asking yourself, so what does that really mean? A high DOM for a particular home in a strong seller's market with a low average DOM is a red flag for home buyers that may lead them to believe something is wrong with the home. Keep in mind that DOM for your specific neighborhood might vary from the average days on market in an area – so we recommend that you ask your realtor or do some additional online research yourself.
SEASONALITY VS. DOM
As previously mentioned, seasonality can play a large role in the number of days on market. To show how seasonality can impact markets, let's compare the median number of days on market a home is active on the Multiple Listings Service in the Minneapolis-St. Paul-Bloomington area throughout the year, according to Realtor.com: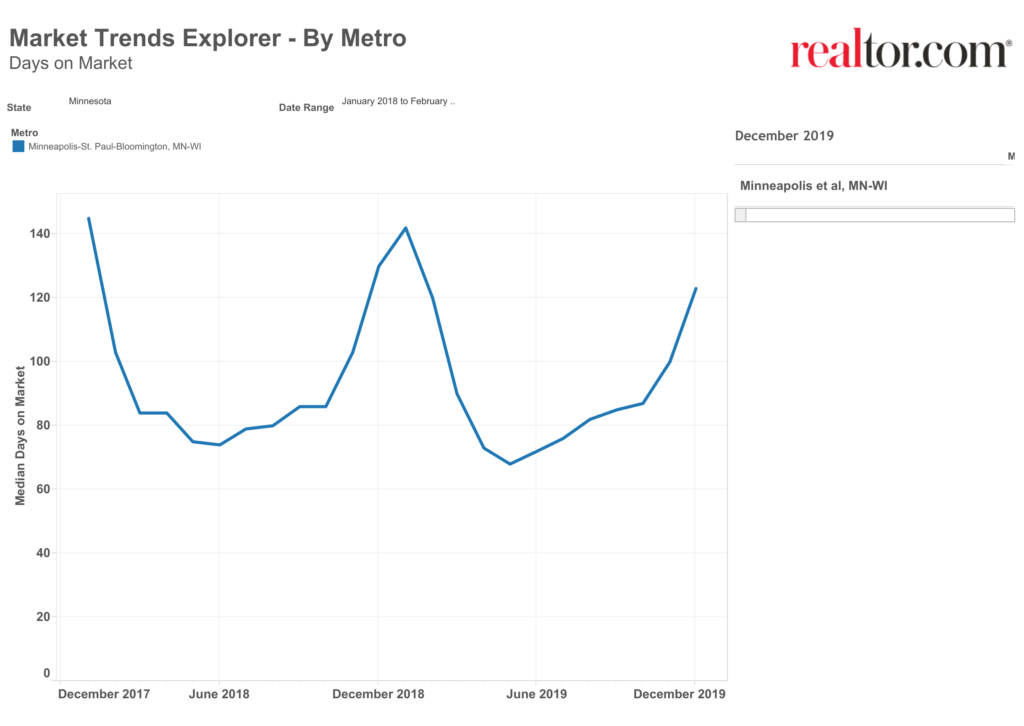 As you can see in the chart above, during the warmer months, the days on market number decreases significantly. Spring is known for being the best time to sell a house in Minnesota. This data proves that. During the colder winter months, the days on market skyrocket.
WHY DOM MATTERS
DOM in real estate is important for both buyers and sellers, but the stakes are higher for sellers. Homes typically generate the most interest when they're new to the real estate market. After the first few weeks, the phone calls, showings, and open-house visitors tend to drop. Interest fades as buyers purchase other homes. Once all current buyers have seen your home, you'll be limited to the smaller population of new buyers entering the market.
When buyers notice your home's above-average DOM, they'll wonder what's wrong. The question typically has three answers: price, condition, or location. Since you can't change the last, you'll have to make your home more desirable for buyers, lower your asking price or both. A high DOM can also lead buyers to think you're unmotivated, stubborn or unavailable.
WAYS TO HELP REDUCE DOM
If your home has been on the market for quite some time, you may want to consider taking action. There are a few ways to go about this.
Get the price right on day one of the listing
We've explained this in detail in another post on how to calculate the value of your home and accurately determine its sale price. Essentially, if you aim to retrieve every dollar you've spent on your home over the years, if you aren't realistic about the market, or engage in a host of other common pricing mistakes, you could risk your home lingering unsold.
Price adjustment
There is no rule on the timing or amount of a price reduction. Rather, that depends on your local market and how much activity you've had. If dozens of buyers have seen your home, but you haven't received any offers even as similar homes have sold, you'll need to act soon.
Repairs and renovation
Ideas to update your home might include fresh paint, new windows, updating your bathrooms or resurfacing kitchen cabinets. If you're handy, you might remove wallpaper and scrape off those popcorn ceilings, as we've explained in our guide about steps you should take to increase your home's value. Anything to make the home look fresh and modern.
Cleaning and staging
Definitely think about staging your home. If your home is full of clutter or has pet odors, consider hiring a professional cleaner. A home staging pro can rearrange your furniture and bring in colorful accessories in ways that can make your home appear more appealing to buyers. Potential buyers want to imagine themselves relaxing in their new home, not stressing over upgrades.
RESET YOUR DOM
Another common strategy is having your real estate agent take your house off the market for a few weeks or months. Then, when the time is right, offer the house again, possibly with a new, lower price. This might restart your DOM counter and give homebuyers the impression that your home just came on the market, although playing the system isn't considered the most ethical option.
---
John T. Wanninger is a well-known real estate agent specializing in luxury homes, properties, and condominiums. John leads the JTW Partners group at Lakes Sotheby's International Realty in Edina, Lake Minnetonka, and the North Loop.
Check out John's listings to see all available properties. John represents an array of homes including single-family homes, new construction homes, lakefront properties, and more. Contact John to set up an appointment or to list your house for sale.
Don't forget to follow John's social media! Stay up to date with his Instagram, Facebook, and LinkedIn.