When you're ready to put your home on the market, you'll want to create a space that's visually appealing to potential home buyers. If they can picture themselves living in your home, the higher the changes are of them buying it. In fact, the National Association of Realtors states, "eighty-three percent of buyers' agents said staging a home made it easier for a buyer to visualize the property as a future home." The goal of home staging is making your house appealing to the greatest number of buyers, thereby selling a property more swiftly and for more money. Therefore, home staging has several benefits, including a shorter time frame for your house to sit on the market and a higher return on investment.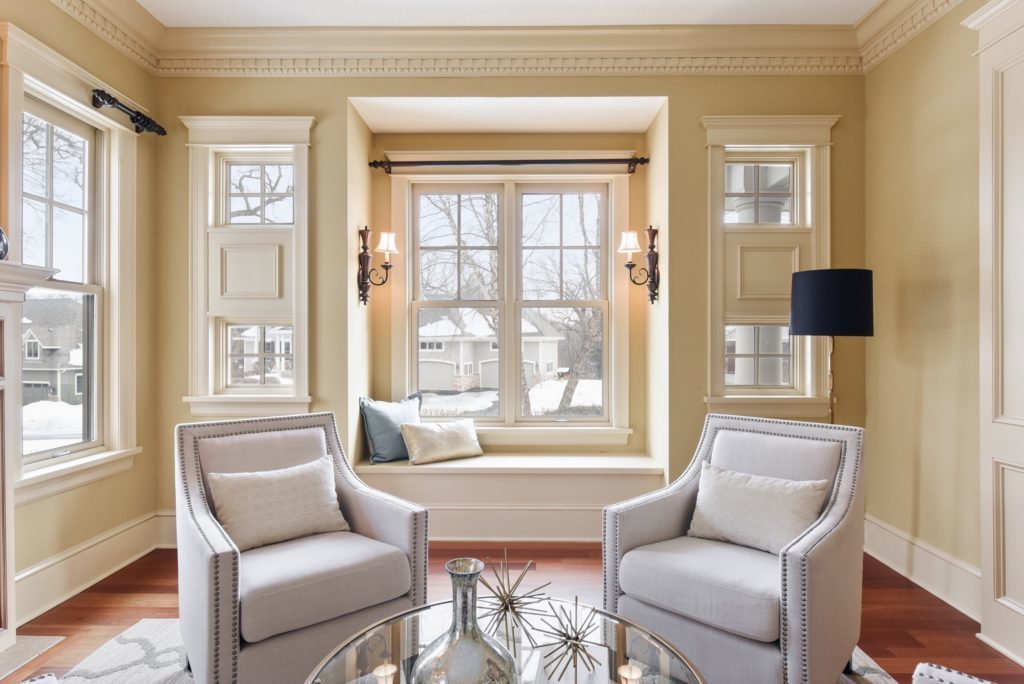 WHY TO STAGE YOUR HOME
Over the years, you and your family have made the house you live in your home. A place for you to share memories, laughs, and quality time with the important people in your life. In many ways, your house has become the perfect place for you. Everyone has their own wants and needs, and some of those may be applicable to your home. What some call a traditional living room, may very well be a gaming room for your kids. The kitchen now doubles as a homework zone and the basement is a yoga studio. In other words, your home may not follow the "traditional" layout of a house anymore.
Now that you're moving out, however, it's time to make some changes. As a home seller, it's important to show potential buyers how their life will fit into your house. You don't want to show or tell buyers how to live. The best way to do this is through home staging. When done correctly, home staging highlights the property's potential and minimizes its weaknesses. You want to present the space as a clean slate to your home buyer. How they transform your home is up to them. Whether they plan to raise kids or run a business, how a buyer transforms your house is up to them.
HOW TO STAGE YOUR HOME
There are several key factors that go into home staging. The first and maybe most important is getting rid of clutter. When a potential home buyer walks through your house, they want to see a clean, messy-free space. That means no more dirty dishes in the kitchen sink, tennis balls scattered across the yard, or clothes piled on that chair in the bedroom. The less you have to move, the easier your move will be. Spend some time going through your house to decide what you really need, and tidy up the place. Another important step in home staging is creating more space. Bulky furniture can make rooms look smaller than they truly are. Opening up the room will make it seem more inviting to buyers. In addition, neutralizing the space can be crucial. You may love that red leather couch or bright blue walls in the living room, but not everyone will. Painting the walls neutral tones and utilizing simplistic furniture can help buyers better visualize themselves living in the space.
HOME STAGING TIPS FOR EACH ROOM IN YOUR HOUSE
Home staging can seem like another added stress on top of the already stressful time of selling a home. However, these tips can help put your mind at ease. As previously stated, staging a home is important. That doesn't mean that every room needs to be completed staged.
The most popular rooms to stage are the living room (83 percent), kitchen (76 percent), master bedroom (69 percent), and dining room (66 percent). Similarly, buyers have expressed that the three most important rooms are the living room, the master bedroom, and the kitchen. The National Association of Realtors states that "staging the living room was found to be most important for buyers (47 percent), followed by staging the master bedroom (42 percent), and staging the kitchen."
As a seller, you want to stage the rooms that see the most traffic. Also keep in mind the spaces that have the most potential for "web appeal" to online buyers. In today's market, many buyers look to social media for current listings available. To read more about this, check out the Prepping Your House For Sale blog post.
Living Room
There are several tactics to make your living room attractive to a broad set of buyers. Remove bulky furniture and statement pieces. Put photos, knick knacks, and other personal items into storage. Remove outdated decor and replace with more modern decor. Create a neutral space with subtle wall colors, rugs, and furniture. Instead, it's better to have a pop of color; throw pillows, blankets, and basks work well for this. Finally, if possible, emphasize natural light by opening the currents or turning on side lamps.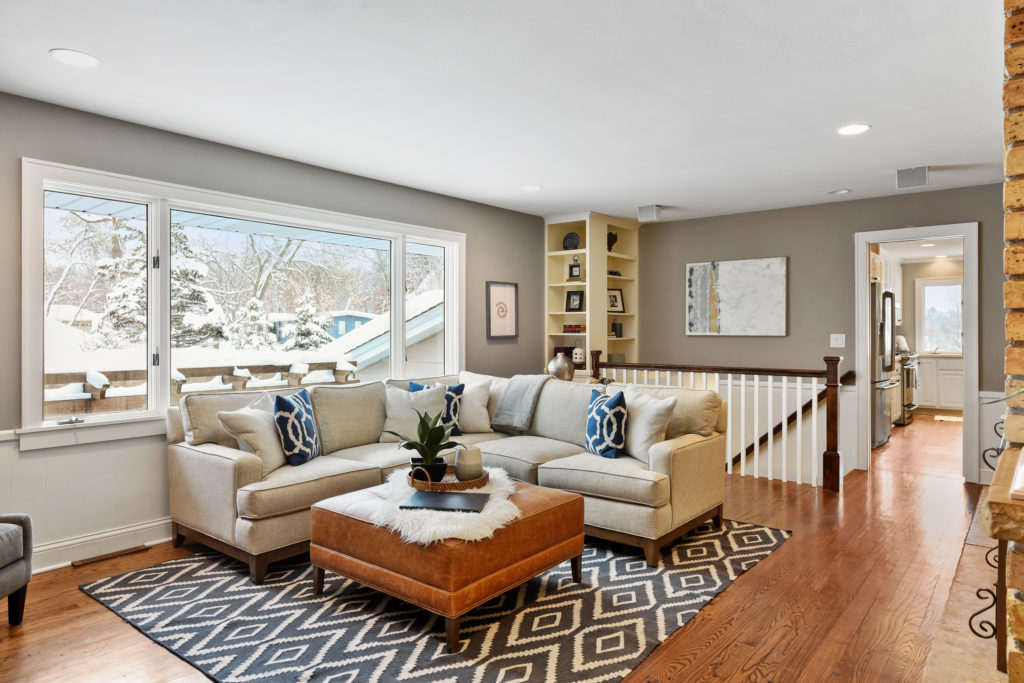 Dining Room
An important home staging tip for the dining room is to think about proportions. This means, you should set up an appropriately-sized table, with four or six chairs placed around it. For style and practical purposes, hang one big pendant-style light over the table. Take this one step further by setting the table with chic and simple table settings. Finally, keep open and visible shelving sparse. In other words, don't have your great grandmother's china on display.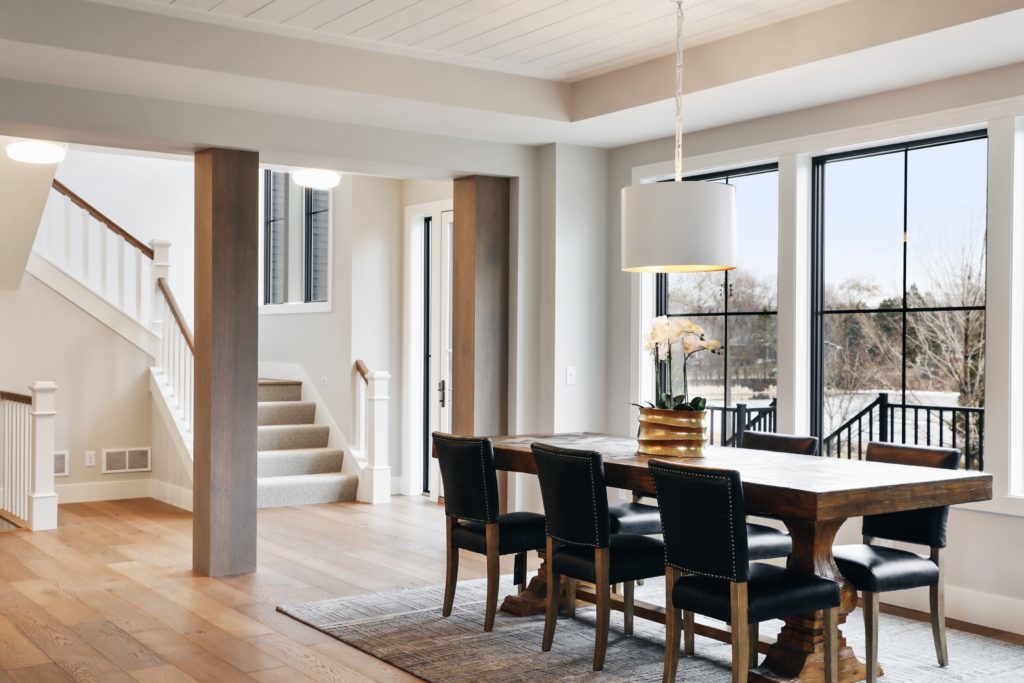 Master Bedroom
One of the most obvious tips for staging a master bedroom is to make the bed before potential buyers walk through. Master bedrooms should have a bedframe and headboard. Use fresh, neutral toned linens and bedding. You can create texture with plush throw pillows. You can also add a pop of color to the room with throw pillows or a blanket. Make the space look and feel open. You don't want a buyer to think the room is too small. Removing all unnecessary furniture, including desks and couches, will help make the room look more spacious. The only furniture pieces the master bedroom should have are the bed, side table, and dresser.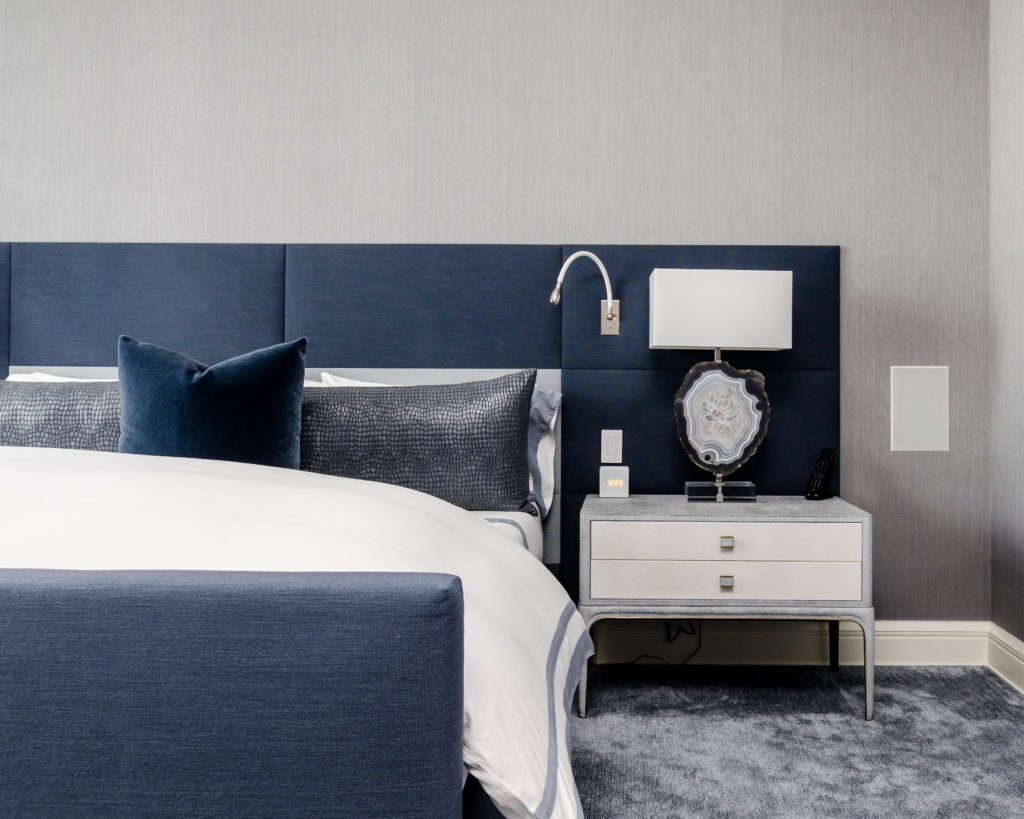 Other Bedrooms
Like the master bedroom, less is more. Keep the space well-decorated, bright, and fresh. It's important to refrain from putting a queen-sized bed in a small room. Using smaller furniture will help make rooms feel bigger and more open. When it comes to home staging a kid's room, minimize the amount of toys and clutter. Obviously, kids are messy and like to have fun; but keep the playtime to a minimum when your house is on the market. Consider removing books so the bookshelves look well-kept, rather than overflowing.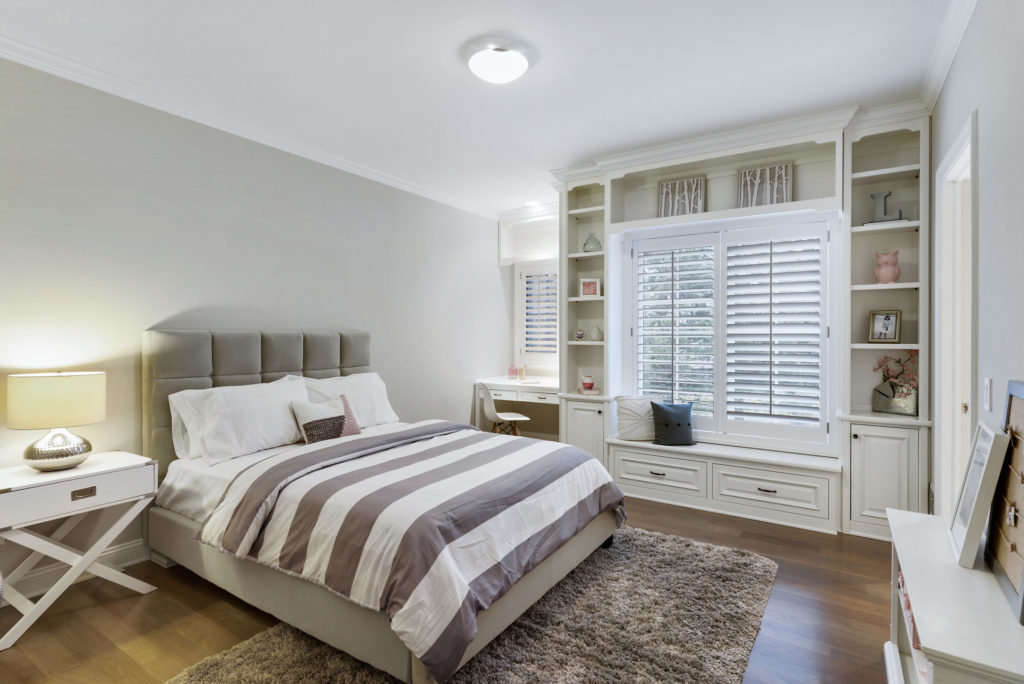 Kitchen
As one of the most used areas in the home, the kitchen can show wear-and-tear very easily. This room may take the longest to stage as it's important to make every aspect of the kitchen clean until it sparkles. When staging a kitchen, pay attention to cabinets, the fridge (the outside, the top, and the inside), the oven, inside the oven, the top of the stove, the sink, and more. Remove appliances from the counters so all surfaces appear more spacious. This will also help declutter the space as well. You may need to pack up your blender, toaster, or oversized Keurig for a little while. Keep four to six place settings in your cupboards, including cups, mugs, bowls, plates, napkins, etc. Remove extras and mismatched sets. Make everything look cohesive and neat. To bring a little extra charm, add a plant or other decorative piece such as a bowl of lemons. This will give the feeling that there's enough room for decor and accents in the space, without overtaking the space. And finally, take out the trash!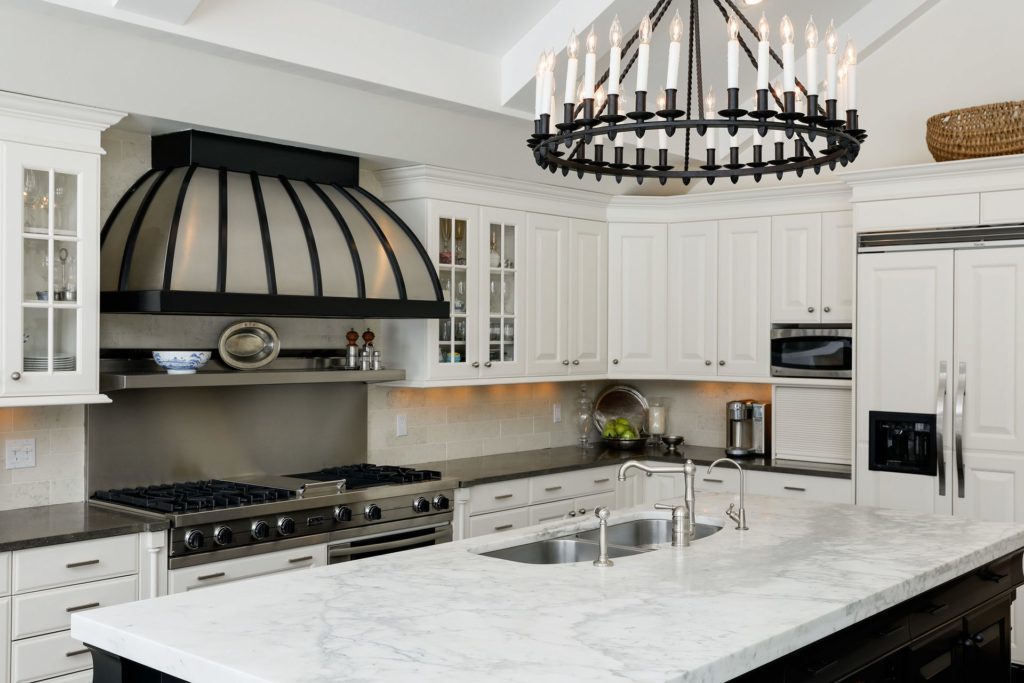 Bathrooms
Similar to the kitchen, your bathroom should be spotless. Deep clean all areas of the bathroom, including the shower, bathtub, counters, toilet, fixtures, hardware, and floors. Bathroom staging can be vital. If you are able, think about upgrading the vanity or hardware to match the current trends. Look at your light fixtures, are they modern or outdated? Make sure that all items on display are new, matching, and luxurious. These items can include trays, soaps, towels, rugs, bath mats, and more.
Minimize the number of toiletries in each bathroom and remove personal items like loofahs and razors when potential buyers are viewing the house. Keep the counters clean and decorative. For any bathrooms with a tub, adding a candle or other bath items can remind buyers of how they could relax at the end of each day.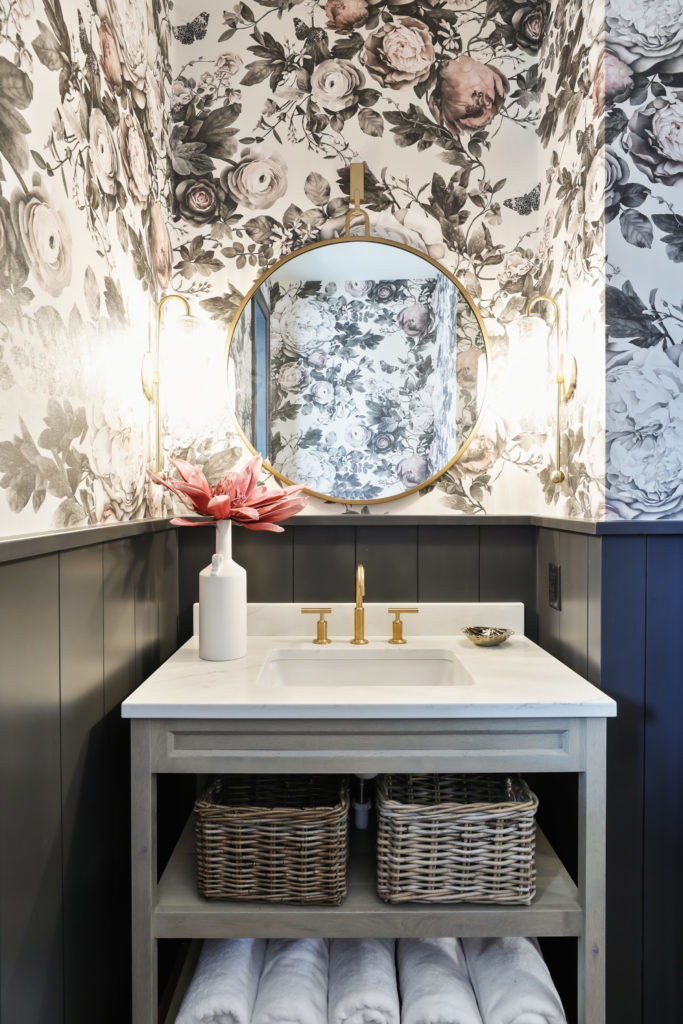 ---
Specializing in luxury properties and condominiums, John T. Wanninger is a professional in Minneapolis real estate. John Wanninger leads the JTW Partners group at Lakes Sotheby's International Realty.
To view all available listings and properties in Edina and the Twin Cities metro area, CLICK HERE.
Follow John Wanninger's social media! Stay up to date with his Instagram and Facebook.
Contact John today to set up an appointment or list your house for sale in Edina, Minneapolis, or the greater Twin Cities metro.