PANTONE'S 2020 COLOR OF THE YEAR
For the past 20 years, Pantone has selected a Color of the Year to represent the culture and values associated with that time period. Pantone's Color of the Year has influenced product development and purchasing decisions in multiple industries including fashion, home furnishings, and industrial design, as well as product packaging and graphic design. This year, Pantone's standout color is Classic Blue. This is viewed as a relaxing hue with a solid foundation. It brings a sense of peace and tranquility to the human spirit. Moreover, it aids concentration and brings clarity. Furthermore, it highlights "our desire for a dependable and stable foundation on which to build as we cross the threshold into a new era."
From film to home decor, you are bound to see Classic Blue incorporated into the world around you. If you want to join the trend, you're in luck. This blog is all about how you can add Pantone's 2020 Color of the Year to your home as you prepare to sell your property.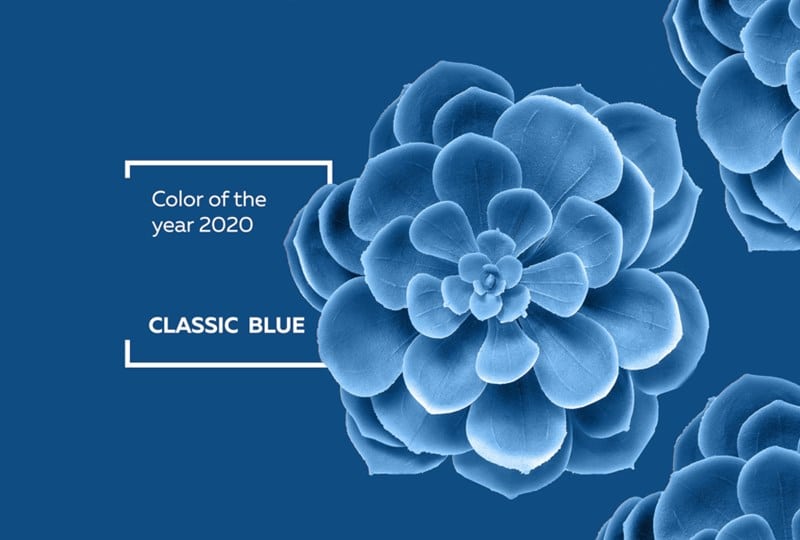 WHY IS CLASSIC BLUE THE 2020 PANTONE COLOR OF THE YEAR?
The year 2020 marks the beginning of the decade. During this time, individuals are welcoming new ideas and possibilities. According to Pantone, Classic Blue is representative of the "vast and infinite evening sky." The comparison of the shade to the sky evokes sentiments of deepened thought and elegance. It is elegant in its simplicity.
As the world continues to speed up day by day, technology moves faster than we can handle and everyone has smart devices at their fingertips. Classic Blue aims to calmly balance this tech-fever with its simple and foundational color. All in all, Classic Blue makes people feel good while still keeping their goals well-defined.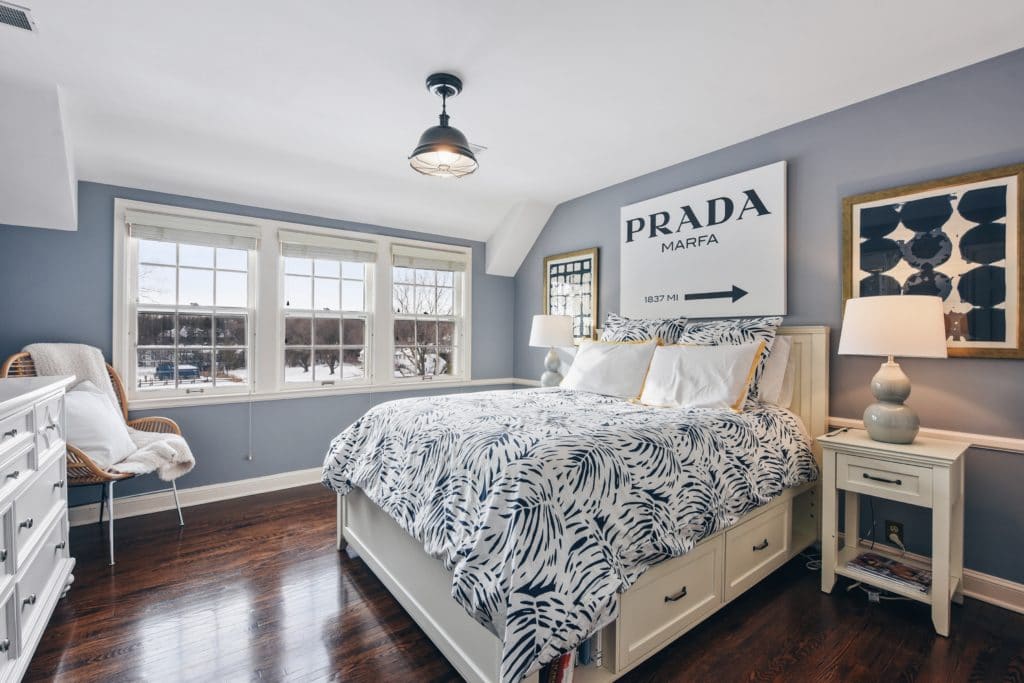 USE CLASSIC BLUE AS A HOME EXTERIOR COLOR
In previous years, Pantone selected bright and vibrant colors as their Color of the Year. For instance, 2019 was Living Coral, 2018 was Ultra Violet, and 2017 was Greenery. These hues are best suited for interior arrangements or decor pieces that can easily be swapped in and out of rooms as the seasons (and styles) change. This year, however, Classic Blue makes for the perfect indoor or outdoor option.
While preparing to list your home on the market, it's important to make your home attractive to potential buyers. Although prepping the exterior of your home and landscaping may seem like a daunting task, it can be made easier when you have a color guide to point you in the right direction.
There are several ways you can add Classic Blue to the exterior of your property. You can paint the entire exterior of your home in Classic Blue, with bright or white trim to even everything out. If you'd like to keep things more neutral, you can paint your trim, front door, or shutters in Classic Blue. A more subtle approach is planting flowers or pots that resemble the blue hue. Finally, you can add Classic Blue pillows, cushions, or umbrellas to your outdoor furniture once spring arrives.
DECORATING THE INTERIOR OF YOUR HOME
As the name suggests, Classic Blue is a simple, elegant and timeless color, making it the ideal shade for any home decor style. Whether you prefer to style your home as farmhouse chic, mid-century modern or modern, there are many ways to incorporate this blue hue throughout your home. Try adding pops of Classic Blue in each room, including rugs, toss pillows, wall art, dinnerware (bowls, cups, or linens), flowers, and vases.
Pantone did us all a favor as this year's color works wonderfully as an accent color throughout the entire year. So, if you invest in quality Classic Blue pillow covers, they will last all year round. In the wintertime, combine Classic Blue with other silver elements to create a snowy and cozy ambiance. In the summertime, alternate decor items in Classic Blue and bright green; these colors accompany the feelings of livelihood and prosperity that come with warmer months. No matter what time of year you're hoping to sell your home, Classic Blue is a fan-favorite color that will work to win over potential buyers.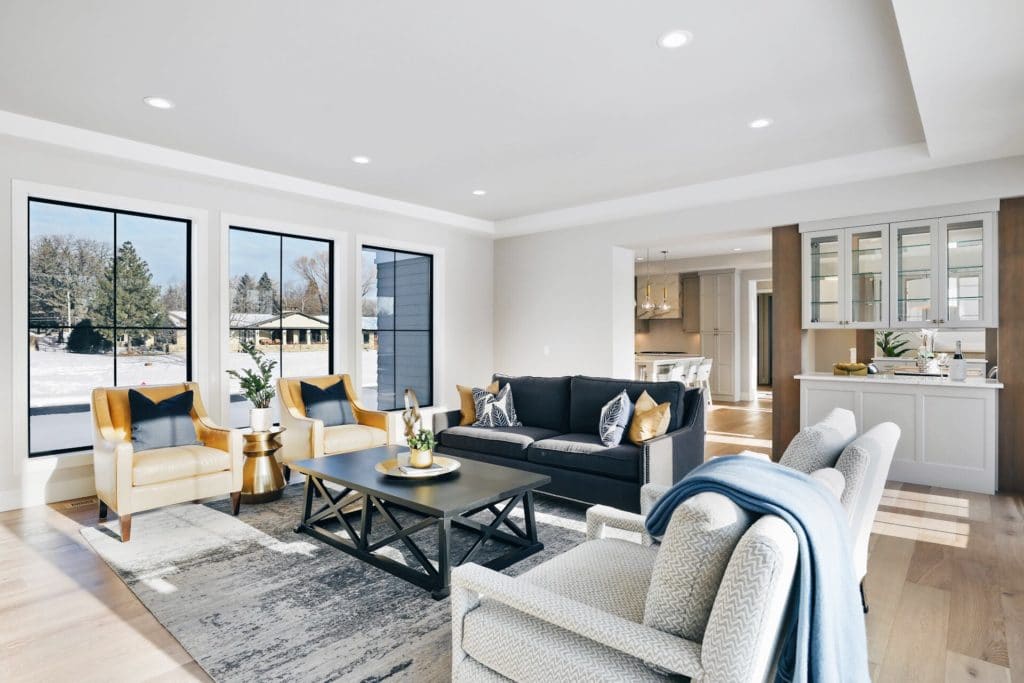 BRIGHTEN UP ALL-WHITE KITCHENS OR BATHROOMS
Recently, it's become popular to have all-white rooms, especially in kitchens and bathrooms. White walls, subway tiles, and shiplap create a sense of openness in each room. Classic Blue highlights are the perfect solution to keep the open and bright floor plan feeling while trying something new.
You can also add blue accents to the rooms you'll be staging, such as dish or hand towels, shower curtains, throw pillows, photo frames and more. Interested homebuyers are certain to notice these details — and be impressed by them — as they tour your home.
6237 Knoll Drive in Edina is a great example of how to use Classic Blue while staging a home. This new construction home has a spacious great room with a see-through gas fireplace that leads to a spectacular vaulted and beamed screened porch. As you can see in the photo above, Great Neighborhood Homes has added various hues of blue in the accent pillows, throw pillows, and rug.
READY TO SELL YOUR HOME?
And, when it's time to sell your home, reach out to John T. Wanninger of Lakes Sotheby's International Realty. John is a well-known real estate agent specializing in luxury homes, properties, and condominiums.
---
Check out John's listings to see all available properties. John represents an array of homes including single-family homes, new construction homes, lakefront properties, and more. Contact John to set up an appointment or to list your house for sale.
Don't forget to follow John's social media! Stay up to date with his Instagram, Facebook, and LinkedIn.