The Best Lakes Near Minneapolis to Live On
When most people think of Minnesota, the first thing that often comes to mind is all of the lakes. The extensiveness of these bodies of water is so vast that Minnesota has been given the nickname of "Land of 10,000 lakes." In total, Minnesota has 11,842 lakes, which is greater than 10 acres in size. Furthermore, there are over 6,500 natural rivers that run throughout the entire state. In fact, about 8.4 percent of Minnesota is covered by water.
In the land of 10,000 lakes, it should come as no surprise that lakeshore living and waterfront properties are a hot commodity amongst Minnesota residents. With so many lakes in Minnesota, who wouldn't want to live in a lake home amongst the various Minnesota real estate options?
Moreover, there are many benefits to living on or near water. Thus, lake homes can benefit your health, free your soul, and give you a sense of peace and tranquility. Besides health benefits, lake homes also provide residents with a variety of amenities. These can include, fishing, boating, ice skating, and more.
Lake homes in the Twin Cities allow Minnesota homeowners the opportunity to live the best of both worlds. They can live a relaxing life just steps away from the water. Meanwhile, they still having easy access to the hustle and bustle of downtown Minneapolis.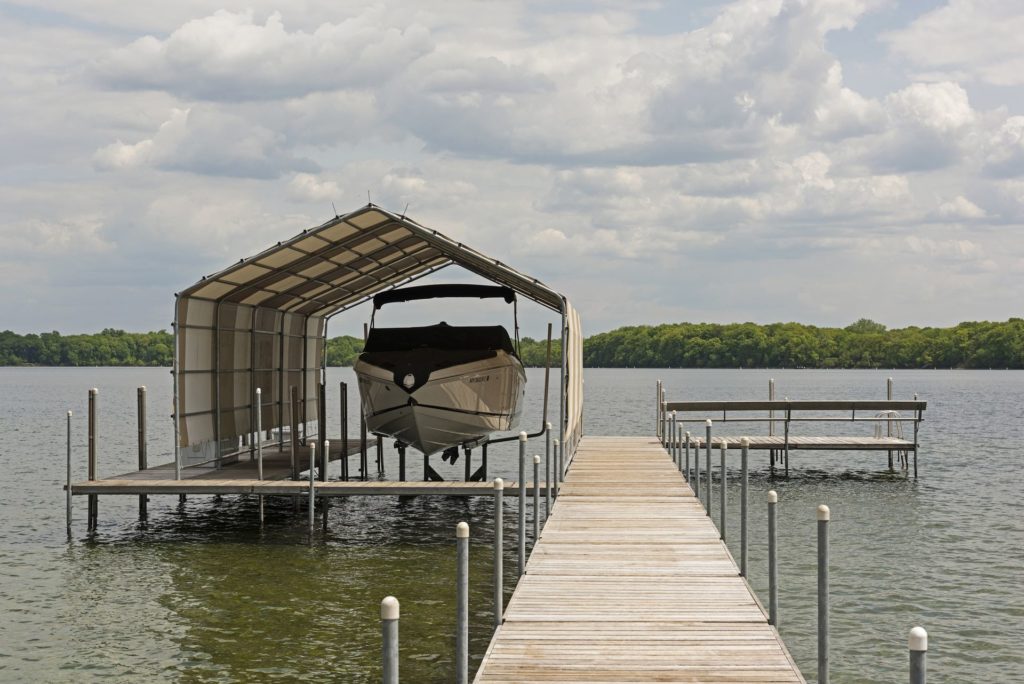 LAKESHORE HOMES VS. LAKE ACCESS HOMES
When looking for lake homes, it is important to determine whether or not you want your house to be on the water. There are benefits to both types of lake homes — lakeshore homes and lake access homes. Lakeshore homes offer the sandy beach at your doorstep style of living. Something to think about is whether you plan on spending your time on the beach or on the water. If you enjoy swimming, fishing, canoeing, speed boating, tubing, jet skiing, wakesurfing, and more at your lake property, you might not use the beach all that much, or in some instances, at all. If this is the case, you may want to consider purchasing a home with lake access.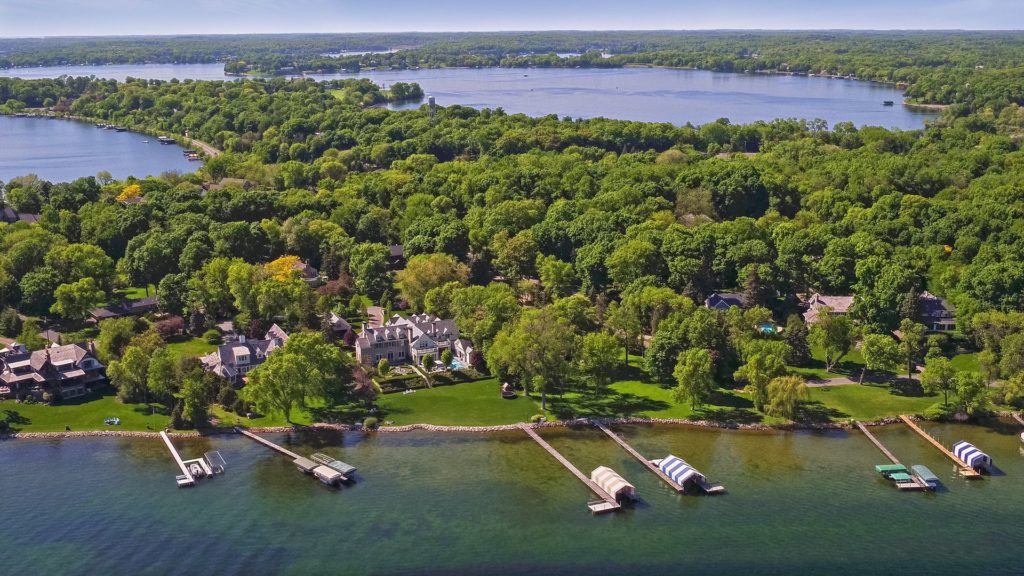 By definition, a lakeshore home sits directly on the water. Whereas with a lake access property, someone else owns the property between your home and the water. Keep in mind, however, lake access properties still have access to all of the recreation that come with a lakeshore home. For the right home buyer, lake access homes in the Twin Cities can be quite practical. These types of lake homes tend to be a cheaper option for you and your family as well.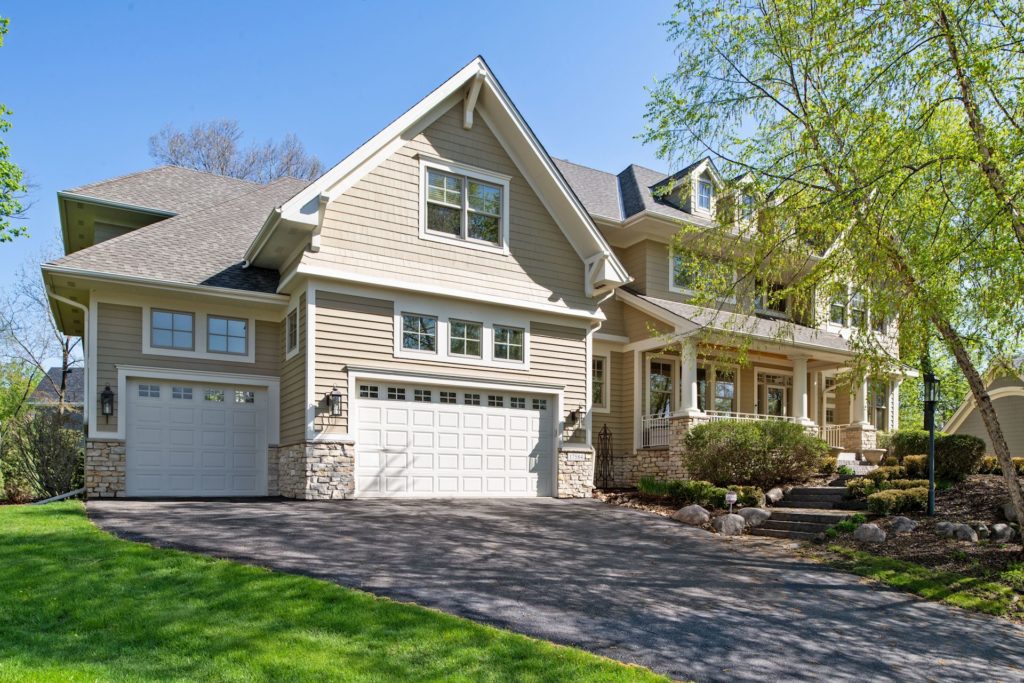 FINDING LAKE HOMES AMONGST THE PLETHORA OF MINNESOTA REAL ESTATE
Minnesota is a diverse state, with the Boreal forest in the northeast, the sweeping plains in the central regions, rolling hills and deep river valleys in the southeast, and rocky landscape in the southwest. It is easy to get lost and confused in the plethora of choices for lake homes, as 10,000 may seem like a daunting number to home buyers. You may be thinking to yourself, how do I pick which lake I want my house to be on? Here is a list of the best lakes in Minnesota to help you find where to look for the best lake home in Minnesota.
LAKE MINNETONKA
First up on our list is one of the most popular spots in the Twin Cities for water activities including sailing, yachting, and speed boating. Lake Minnetonka is an inland lake located roughly 15 miles west of Minneapolis. This lake spreads throughout Hennepin and Carver counties, and is surrounded by 13 different cities and towns. Covering 14,528 acres, Lake Minnetonka is Minnesota's ninth largest lake, making it a great place to begin your lake homes search.
There are several bays connected to Lake Minnetonka. These bays include: Browns Bay, Black Lake, Carman Bay, Carsons Bay, Coffee Cove, Cook's Bay, Crystal Bay, East Upper Lake, Echo Bay, Emerald Lake, Excelsior Bay, Forest Lake Bay, Gideon's Bay, Gray's Bay, Halsted's Bay, Harrison's Bay, Jenning's Bay, Lafayette Bay, Libb's Lake, Lost Lake, Lower Lake North, Maxwell Bay, North Arm, Old Channel Bay, Peavy Lake, Phelp's Bay, Priest's Bay, Robinson's Bay, Seton Lake, Smith's Bay, Smithtown Bay, South Lower Lake, South Upper Lake, Spring Park Bay, St. Alban's Bay, St. Louis Bay, Stubb's Bay, Tanager Lake, Wayzata Bay, West Arm, and West Upper Lake. With so many different access points to Lake Minnetonka, it's no wonder this lake is so popular.
Popular lakeside restaurants include Maynards in Excelsior Bay and Lord Fletcher's in West Arm. Both of these restaurants have docks for people to boat right up to the restaurant. In addition, there are three public beaches on Lake Minnetonka. During the summer months, people can hop on the 1906 Steamboat Minnehaha and step back in time.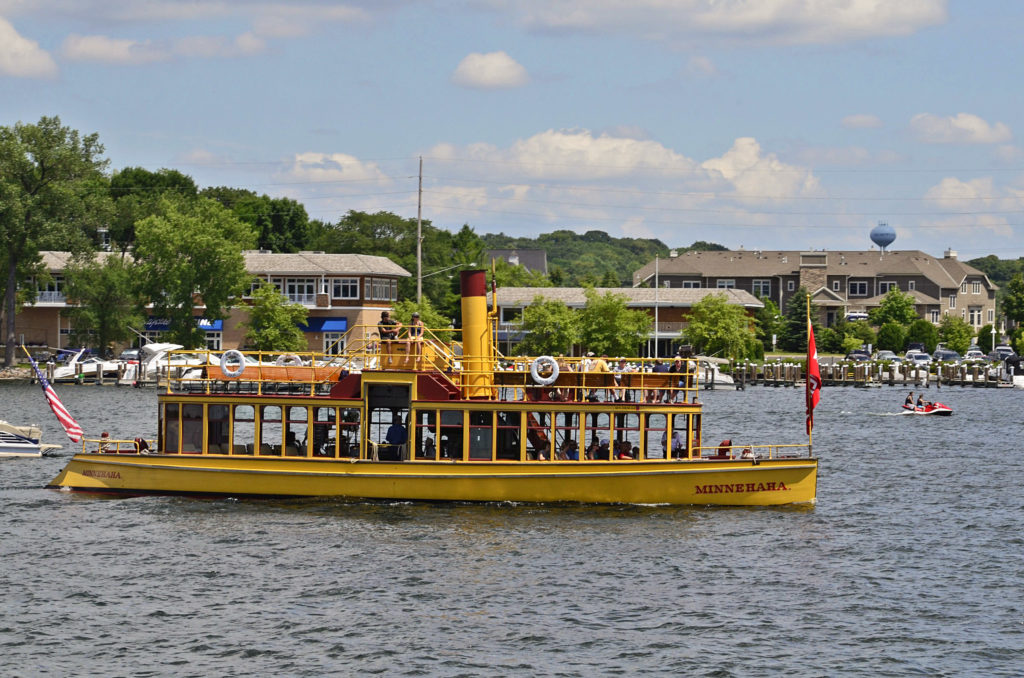 Lake Minnetonka real estate can fluctuate a lot, especially depending on whether the lake homes are lakeshore properties or lake access properties. The trends between homes in Deephaven, Excelsior, Greenwood, Long Lake, Minnetonka, Minnetonka Beach, Minnetrista, Mound, Orono, Shorewood, Spring Park, Tonka Bay, Victoria, Wayzata, and Woodland can all differ.
For instance, the median list price in September 2019 for real estate in Deephaven is $947,500. Single family homes in Deephaven typically have a listing price of $1,628,815. The lowest list price is around $330,000 and the highest list price is upwards of $14,200,000. Whereas, the median list price for real estate in Tonka Bay is $664,500. Single family homes in Tonka Bay typically have a listing price around $1,196,705. The lowest list price is around $295,000 and the highest list price is upwards of $3,800,000. Mound real estate has the lowest median list price at $309,900. Meanwhile, Woodland has the highest median list price at $2,885,000.
LAKE OF THE ISLES
Lake of the Isles is a city lake in Minneapolis, with an area of 109 acres that connects to Cedar Lake and Bde Maka Ska. This beautiful lake is encircled by a path used for walking, roller blading, and cycling. In the winter, Lake of the Isles is used for ice skating and hockey. In addition, there is a road that runs around the lake, offering a magnificent scenic drive.
Lake of the Isles is known for its wooded islands, Mike's Island in the northern sector and Raspberry Island, the northern arm. Most noticeable are the stately homes in the Kenwood, Lowry Hill, and East Isles neighborhoods. The median list price of Lake of the Isles real estate is $787,000, however, most homes sell for much more. Kenwood is an upper-middle class and upper-class area, with predominantly large, single family homes. These homes are often very pricey due to the proximity to the Lake of the Isles. The shoreline homes overlook the lake and wooded islands. Real estate in the Lake of the Isles neighborhood is in high demand.
LAKE HARRIET
Lake Harriet is a picturesque park in the southwest sector of Minneapolis. This lake is just south of Bde Maka Ska and north of Minnehaha Creek. Surrounded by parkland, Lake Harriet is part of the Minneapolis Chain of Lakes. The lake has an area of 335 acres and serves as a popular recreational spot. Like Lake of the Isles, there are walking and cycling trails around the lake. Many people enjoy sailing here as well. In addition, there are two beaches on Lake Harriet, which are particularly common in the summertime. On the northern side of the lake, is the infamous band shell. Lake Harriet Band Shell hosts special events, and offers live entertainment and snacks.
In terms of Lake Harriet real estate, there is much offered directly on the lake. Real estate in the neighboring communities is considered to be prime property due to the close proximity to the lake and the trail system. The area around Lake Harriet is primarily middle and upper-middle class housing. These neighborhoods present beautiful, older style homes with tremendous architecture. The median list price is $559,900. However, many of the homes sell for quite a bit more than that.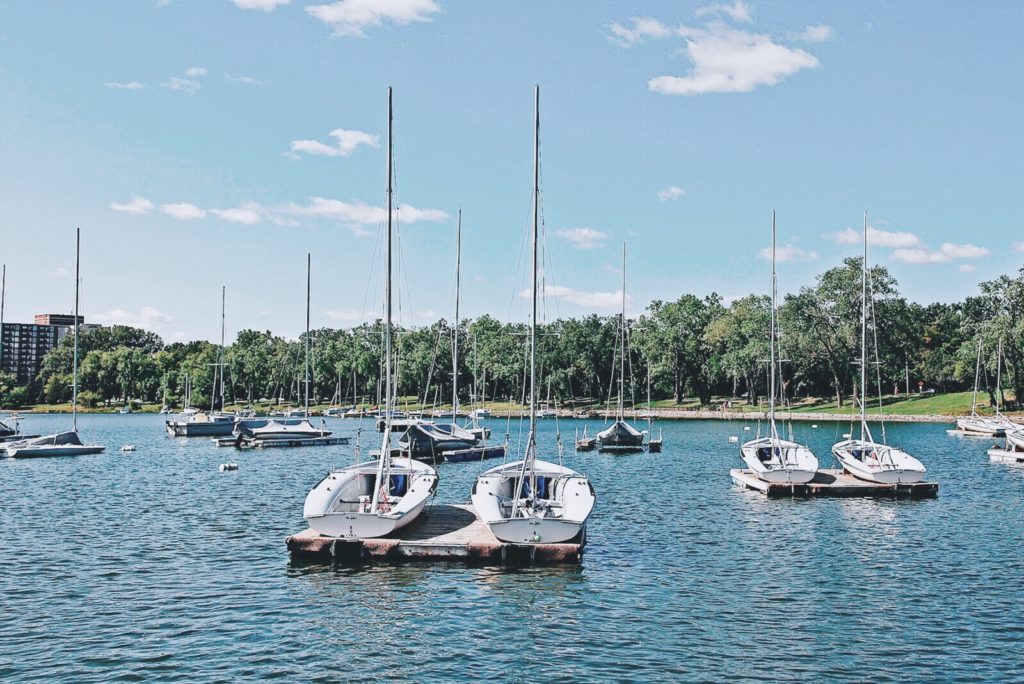 BDE MAKA SKA / LAKE CALHOUN
Bde Maka Ska, previously known as "Lake Calhoun," is the largest lake in Minneapolis. Like Lake Harriet, this is part of the city's Chain of Lakes. This lake is surrounded by parkland and encircled with cycling and walking trails. Furthermore, the lake houses three beaches, all of which permit swimming. Other recreational activities often enjoyed at Bde Maka Ska include windsurfing, kayaking, sailing, and canoeing. Not to mention, there are volleyball nets, athletic fields, and picnic areas around the lake as well.
The Lake Calhoun neighborhood is part of the city's Uptown district. Uptown is a popular, trendy are with a variety of shopping and restaurants. Lake Calhoun real estate includes single family homes, as well as condominiums and studios. Although the median listing price for Lake Calhoun real estate is $697,450, many of the homes are much pricer.
---
Specializing in luxury properties and condominiums, John T. Wanninger is a professional in Minneapolis real estate. Wanninger leads the JTW Partners group at Lakes Sotheby's International Realty.
To view the properties above and all available real estate listings. CLICK HERE
Follow John Wanninger's social media! Stay up to date with his Instagram and Facebook.
Contact John to set up an appointment or list your house for sale in Edina, Minneapolis, Minnetonka, or the greater Twin Cities area today.