HOW TO DECORATE YOUR HOME FOR THE WINTER SEASON
Winter in Minnesota brings blistering cold weather and endless amounts of snow. That means, you're probably spending a lot more time inside than during any other time of year. If you're going to survive hibernating at home, you might as well do it in style. Making your home feel cozy and inviting can help make the dreary winter months a bit more enjoyable. This doesn't mean you have to be stuck living with winter wreaths and holiday decor until March. Having winter decorations for the months following the holidays can be just as important. When you decide to decorate your home for winter, incorporate rich, textural layers and seasonal colors that reflect the winter season. Whether you want to go shopping for wintery artwork and decor, or you'd rather work with what you have, here are seven ideas for winter decorations to prep your home for the colder months.
Depending on how much time and money you want to spend, there are several different ways you can go about how to decorate your home for winter. Whether you want to focus on just a few rooms, or the house is up to you. For many, it's important to make sure that each room in the home transitions well into the winter season once the holidays have passed. These changes can be subtle or rather dramatic.
ADD BLUE HUES TO DECORATE YOUR HOME FOR WINTER
If you're really looking to make a change, consider giving your home a new color scheme for the new year. Accent all-white decor with vibrant blue hues to create a cozy and inviting feel. Adding blue throw pillows, blankets, and candles are perfect winter decorations that can help spruce up your home for the winter season. To read more about cozy blue and white living rooms, see what A Burst of Beautiful has to say.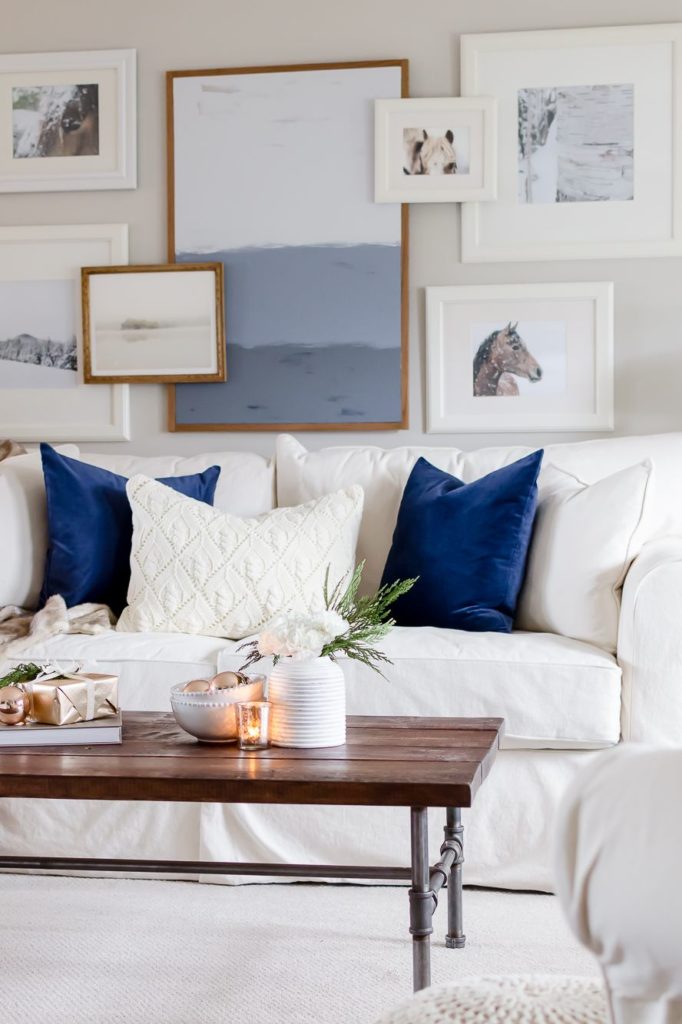 USE WARM TEXTURES
You can easily transform your everyday decor into a winter wonderland using neutral elements. Implementing rustic decor pieces like antlers is a great seasonal touch. For those who like DIY projects, you can warm things up by covering glass vases with remnants from old sweaters.
CREATE AN EDGY VIBE
One of the edgier ways to decorate your home for winter is to bring in darker colors and bold patterns. Swap out vibrant, summery vases for moodier ones. Graphic ceramic vases bring a warm, yet edgier vibe. Adding darker colors and prominent patterns to accent pieces can help set the mood in your winter home. Having a cluster of both vases in various sizes and shapes on your mantle in the living room, can bring a whole new feel to the room. You could also swap out bright lamp shades for darker ones as well.
ADD LUSH GREENERY
Another simple way to decorate your home for winter is by adding lush greenery. This will help enliven an entire room. Wrap a lush green winter garland around a lackluster staircase or hang it from the living room mantle. In addition, floral arrangements can bring a softness to the space. White carnations and fresh cedar or pine clippings make perfect winter table centerpieces and side table accent pieces. They are simple, inexpensive, and add just a touch of green – something every room needs. Especially with the lack of flowers outside. If you are looking to spice up your living room, kitchen, bathroom, or bedroom during this cozy season, then get ready to experiment with bold flowers, unique vases, and many additive fixtures.
SEASONAL CANDLES MAKE FOR THE PERFECT WINTER DECORATIONS
Candles are a must-have home accessory, as they give life to any room with their fragrances. Especially in the winter when the nights are long, and the amount of daylight gets shorter. Lighting a great-smelling candle is the perfect way to make a room feel cozy. Who doesn't adore the sweet smell of warm vanilla, the crisp scent of pine needles, or the calming aroma of cinnamon and apple? Seasonal candles are an amazing addition to any home.
Not only do candles smell great, they also look great as well. For a subtle winter wonderland effect, add some light blue and white candlesticks throughout the main areas of the house. These play up the wintery look in a simple, yet elegant way. For those who like DIY projects, you can take candles to a whole new level with seasonal candle holders. Adding pine, cranberries, garland, or other wintery elements can bring a uniqueness to your home.
COZY UP WITH FAUX FUR
Faux fur are a great option for adding the appearance of coziness and warmth to your home during the winter. If you want to create instant warmth, both visually and physically, adding faux fur around the house is definitely the way to go. There are many places throughout the house you can add faux fur. For those wanting extra warmth, snuggle up to a furry bedcover. For some, that may be too much. Keeping a small furry throw pillow is another way to add soft texture to the space. Moreover, a faux fur throw on a bench at the end of your bed or in your living room adds a chic and warm feeling.
Don't forget to treat your feet! Faux fur rugs can keep your toes toasty as you enjoy the warmth of your fireplace this winter. Not only are these furry, warm blankets and pillows are ideal for movie nights, hangouts, and holiday get togethers, they are perfect winter decorations as well! Grab a warm cup of hot chocolate, pop in your favorite movie, light a refreshing peppermint scented candle, and wrap up in your faux fur blanket.
KEEPING IT NEUTRAL WITH WINTER DECORATIONS
You don't need to go all out with bold colors. Keeping your winter palette neutral and bright can bring a calm and inviting vibe to your space. Using copper-toned accent pieces and sticking to neutral toned furniture is a great way to stay cozy this winter.
---
John T. Wanninger is a professional in Minneapolis real estate, specializing in luxury properties and condominiums. John Wanninger leads the JTW Partners group at Lakes Sotheby's International Realty.
To view all available real estate listings and properties in Minneapolis and the Twin Cities metro area, CLICK HERE. Contact John to set up an appointment or list your house for sale in Minneapolis today.
Follow John Wanninger's social media! Stay up to date with his Instagram and Facebook.