You know what makes the best time of the year even better? Decking out your house with Christmas decorations that set the mood for the holiday season. Get every inch of your house into the holiday spirit with these creative and festive Christmas home decor ideas. If there's any time that the phrase "go big or go home," would apply to decorating your home for a holiday, it would be Christmas. Christmas is one of the only occasions where going above and beyond is welcomed with open arms. Glitter, plaid, twinkling lights — the more the merrier. If you're planning to decorate your house for the holiday, you might as well go all out with well-trimmed trees, elaborate holiday centerpieces, accessorized mantels, and more.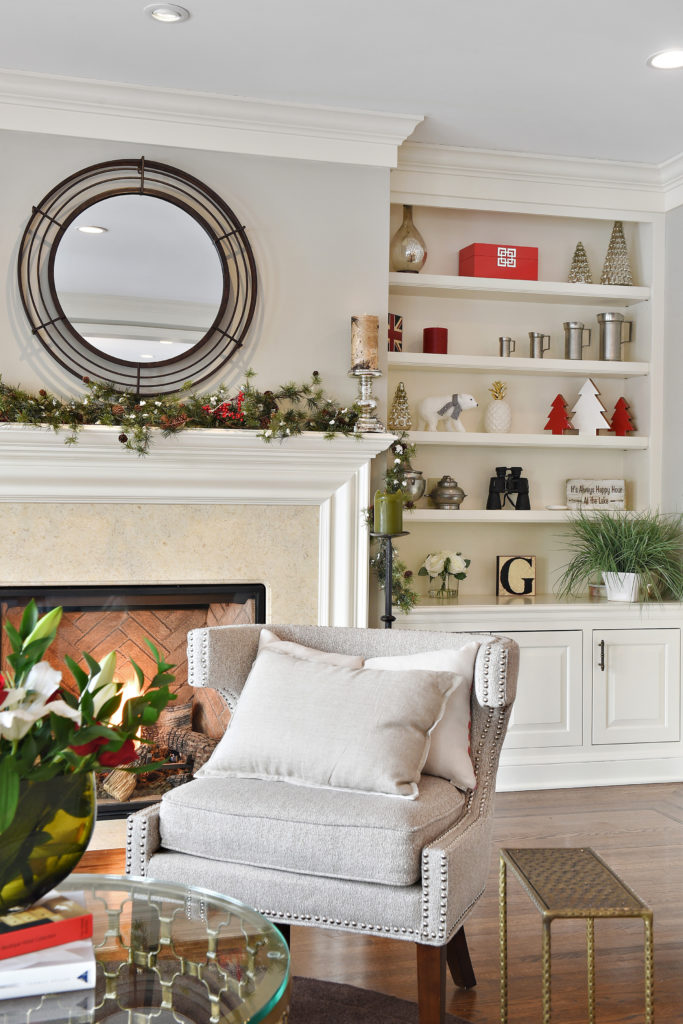 You don't have to always stick with the classic red and green. You can refresh your kitchen, living room, and other areas in your house for the holiday season by taking inspiration from these Christmas home decor ideas, ranging in style, price, and DIY skills. The Christmas tree, while a major component of the holiday, is only just the beginning. Use stockings, wreaths, and garlands, along with other festive decorations to spruce up your home this holiday season. Whether you prefer traditional Christmas home decor or something a bit more out there, there's something for everyone on this list.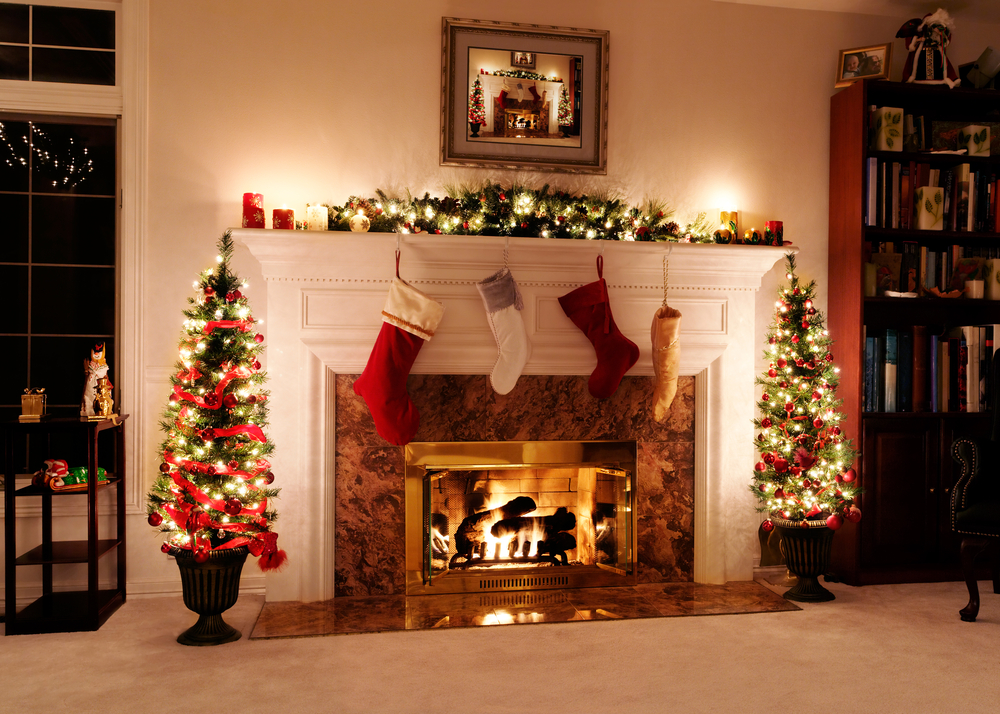 STICK TO THE CLASSICS
Traditional Christmas decorations never fail to make the space warm, sweet, and cozy. They are timeless and will look great for years to come. Red and green are typically thought to be the colors of Christmas. Red has been used to represent Christmas for thousands of years. During the middle ages, Paradise plays were performed, most often on Christmas Eve. They told Bible stories to people who couldn't read. The 'Paradise Tree' in the garden of eden in the play was normally a pine tree with red apples tied to it. Thus, red represents the apples and the fall of Adam.
Green, on the other hand, represents evergreen plants, like holly, ivy, and mistletoe toe. Green has been used for many years to decorate and brighten buildings during the long winter. Moreover, it reminds people that spring is coming and winter won't last forever. And of course, the most common use of green are Christmas trees. Thus, you can never go wrong with red and green Christmas decorations.
Traditional Christmas Wreath
While most people put focus on the indoor spaces for Christmas decorations, it's just as important to consider your home's exterior. One of the best ways to enhance your entrance is with a stylish wreath. Who doesn't love making a great first impression? Creating a festive ambiance inside and out is sure to put any and all guests in a jolly mood! A red and green plaid ribbon bow with simple greenery and red berries as accents is a traditional, yet elegant design.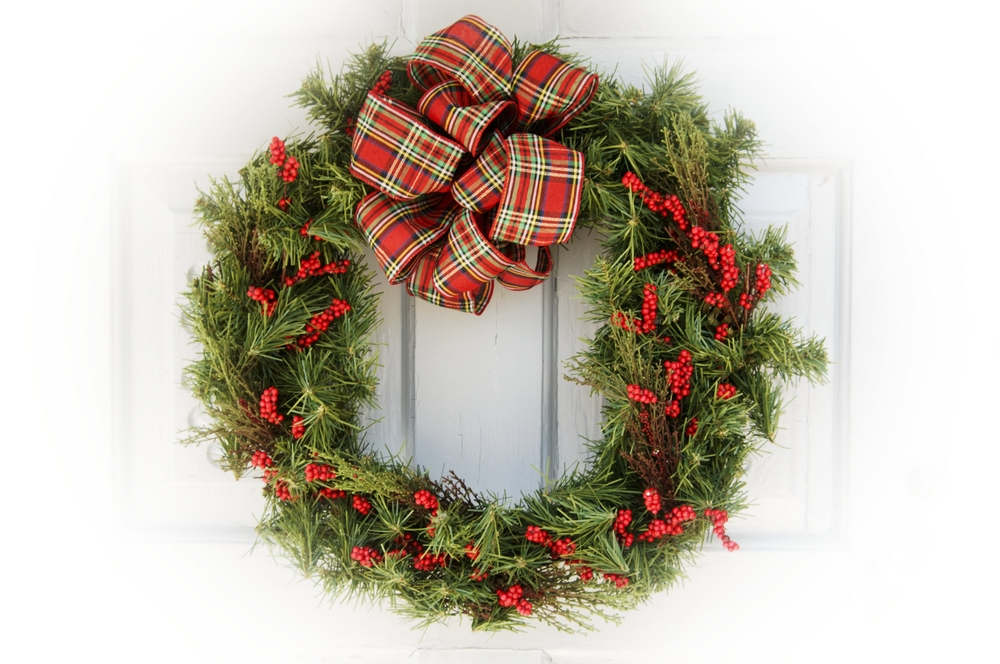 Merry and Bright
You can also bring the red and green traditional colors to your Christmas tree. With gold lighting and red and green ornaments, your tree is sure to light the Christmas spirit.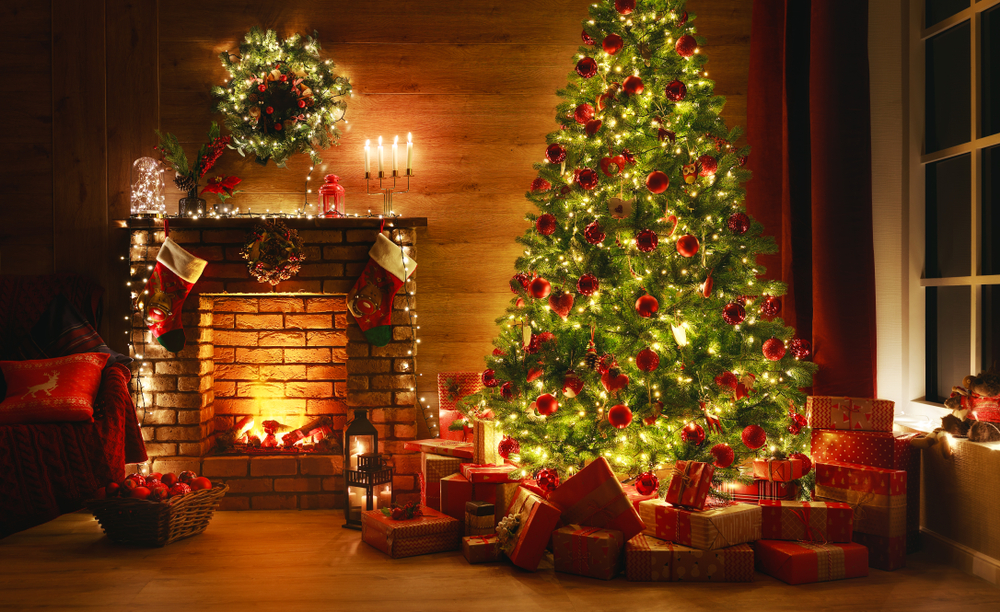 Festive Stockings
Christmas stockings are a fun tradition that typically holds treats and small items to your loved ones. Why not add some cheer to your living room mantle by hanging festive red and white stockings? Using stockings with various patterns, but similar colors and shapes, will add a new dimension to your Christmas living room decor.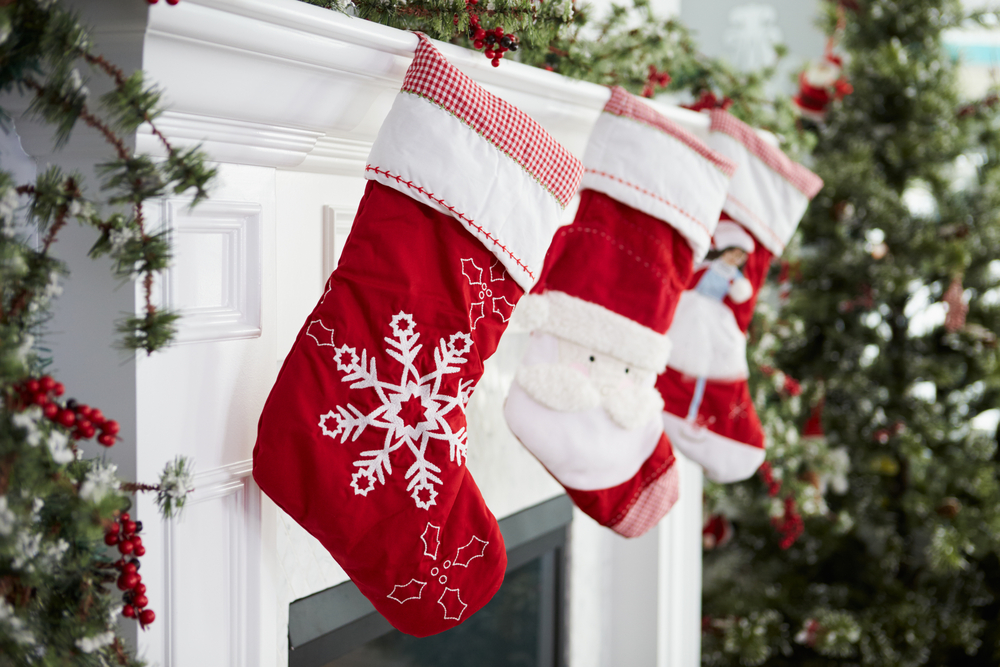 Christmas Candles
Candles add to the beauty of fireplace, the windows, and honestly the whole house. They add to the atmosphere and bring a cozy feeling to your home. They bring warmth and a sense of peace as well. Candles can be placed anywhere in the house — kitchen bathroom, mantle, dining room table, etc. Various holders, sizes, and shapes of candles are the perfect addition to your Christmas home decor.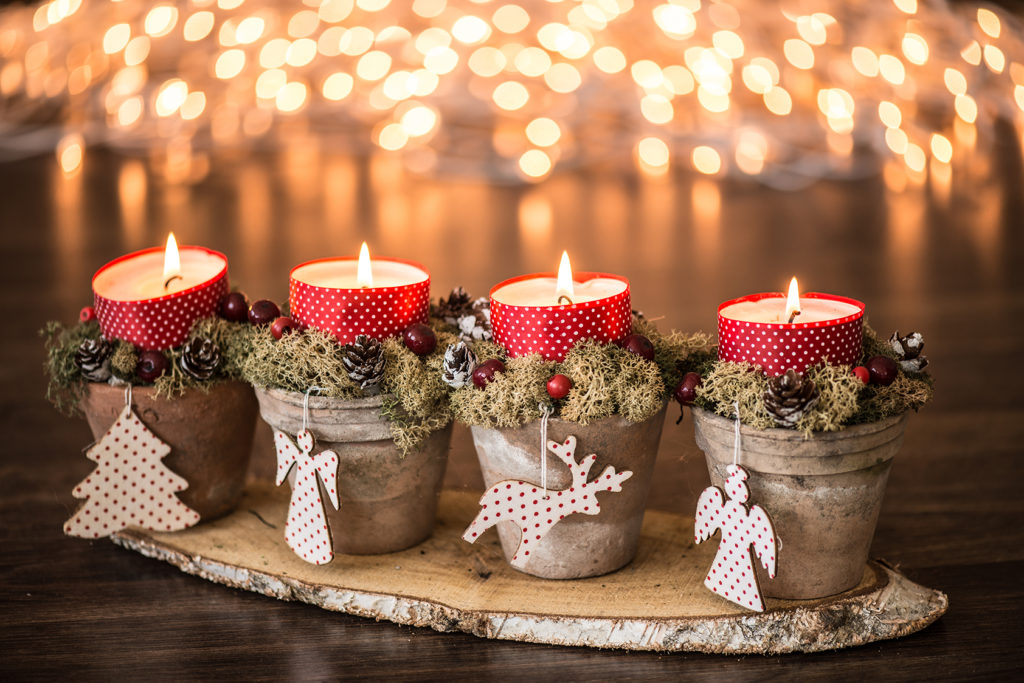 THE GLITS & GLAM OF CHRISTMAS HOME DECOR
The holidays are fast-approaching, but there's plenty of time to get festive with your Christmas home decor. Turn your home into a merry, bright, and beautiful space with major glitz. Add sparkle to unexpected places.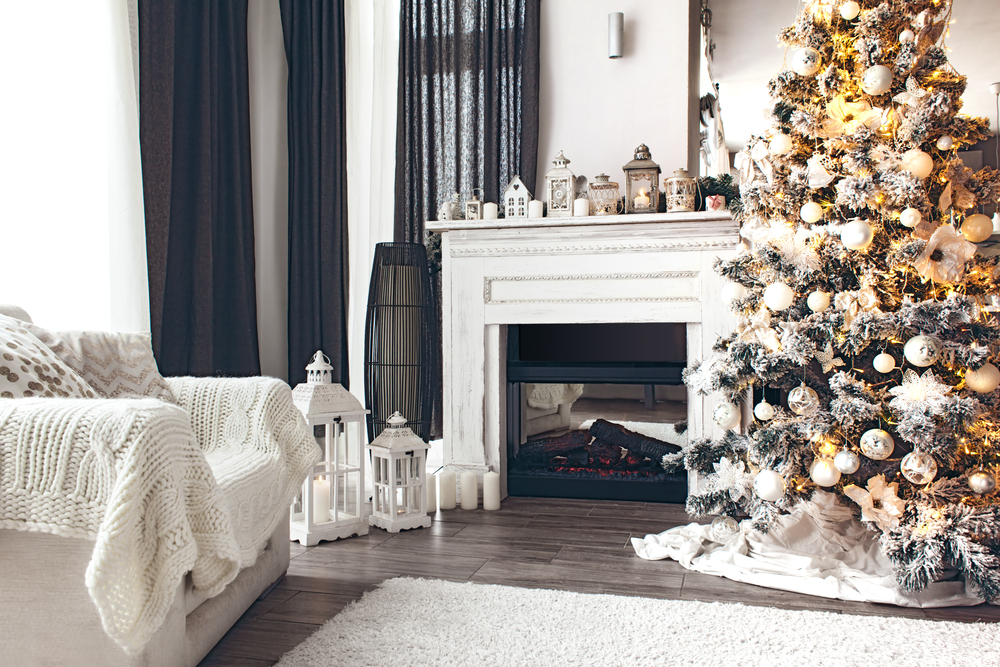 Elegant Christmas Bedroom Decor
While they aren't the traditional color combination for Christmas home decor, blue and white are a great way to stand out. Moreover, these colors are symbolic for winter, representing frozen lakes and snow. There are a lot of shades of blue, that can help add dimension to your Christmas decorations. Tiffany blue, royal blue, navy blue, sky blue, serenity blue, and many others, along with silver or gold accents will give a nice sparkle. Not to mention, they'll add a some glitz and glam to your home this holiday season. Bring an elegant winter vibe to your Christmas bedroom decor with blue and white ornaments covering your tree and winter wreaths.
All White and Blue Everything
Similar to the the elegant Christmas bedroom, white and blue is a great theme to carry out throughout the house. Ornaments, Christmas garlands, stockings, wreaths, and even the wrapping paper for the presents, will make for great Christmas living room decor. Especially when they follow the blue, white, and metallic pattern. Moreover, blue and white add a sophistication that is sure to impress all of your guests over the holidays.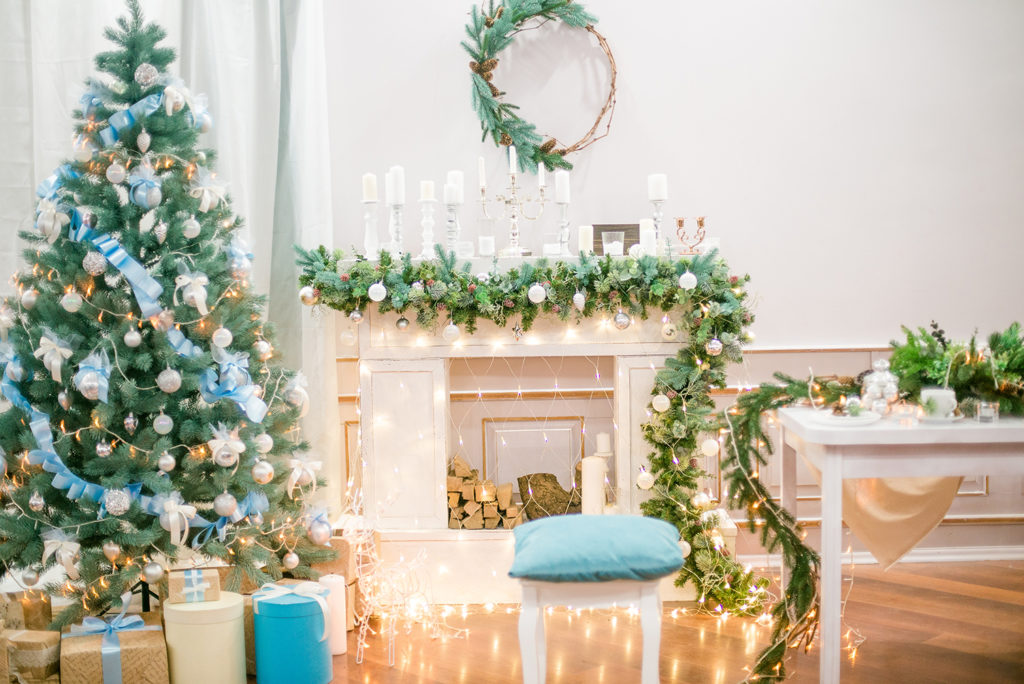 ADD RUSTIC CHARM TO YOUR CHRISTMAS HOME DECOR
There are so many different ways you can decorate your home for the holidays. Some people strive for a classic and elegant look that party guests will be impressed with. While others prefer to lean into cozy vibes of the winter season with rustic Christmas decorations. Just because you don't live in a log cabin, doesn't mean you can't pretend, even if it's just for the holiday season. In fact, there are plenty of ways you can transform your home into a farmhouse that will get Santa's stamp of approval.
Now is the time to bring out all of your antique shop finds. Wooden boxes, snow-covered tabletop trees, and vintage sleds will serve as great Christmas home decor items for any room in the house. In addition, there are many DIY rustic Christmas home decor ideas that are affordable. That means, you won't have to compromise your Christmas budget to make your house look and feel cozy this holiday.
Seasonal Wooden Signs
Whether you choose to buy one on Etsy or DIY it, wooden signs add a rustic touch to any room. Give an old wooden sign a dose of holiday magic by customizing it with a short holiday phrase. This could be "Let it Snow," "Tis the Season," or as seen in the example below, "It's the Most Wonderful Time of the Year." Whatever saying you may choose, adding hand-painted snowflakes, stars, or ornaments will create a festive look.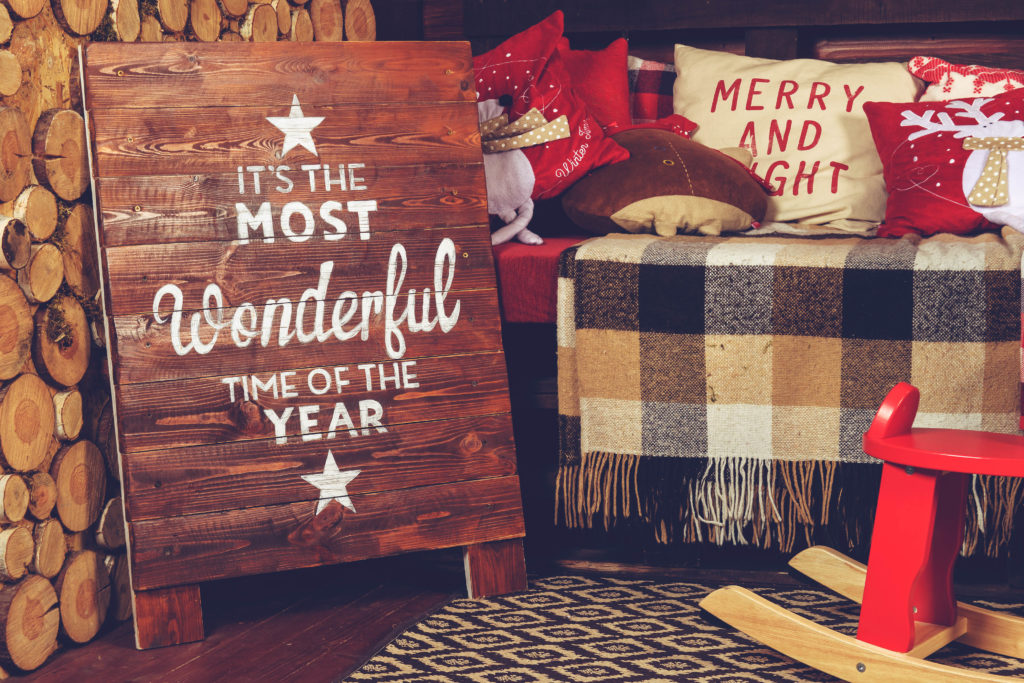 Bring the Outdoors Inside with Christmas Table Centerpieces
You can also add a rustic touch to Christmas dining table decor. Bring the outdoors inside with Christmas table centerpieces. Combine pine cones, walnuts, cranberries, birch twigs, pine, and spruce along with some twinkling Christmas lights and you have yourself a festive Christmas dining table. For extra detailing, you can tie some fresh pine to each napkin. This will bring a whole new level to the festive feel of your meal.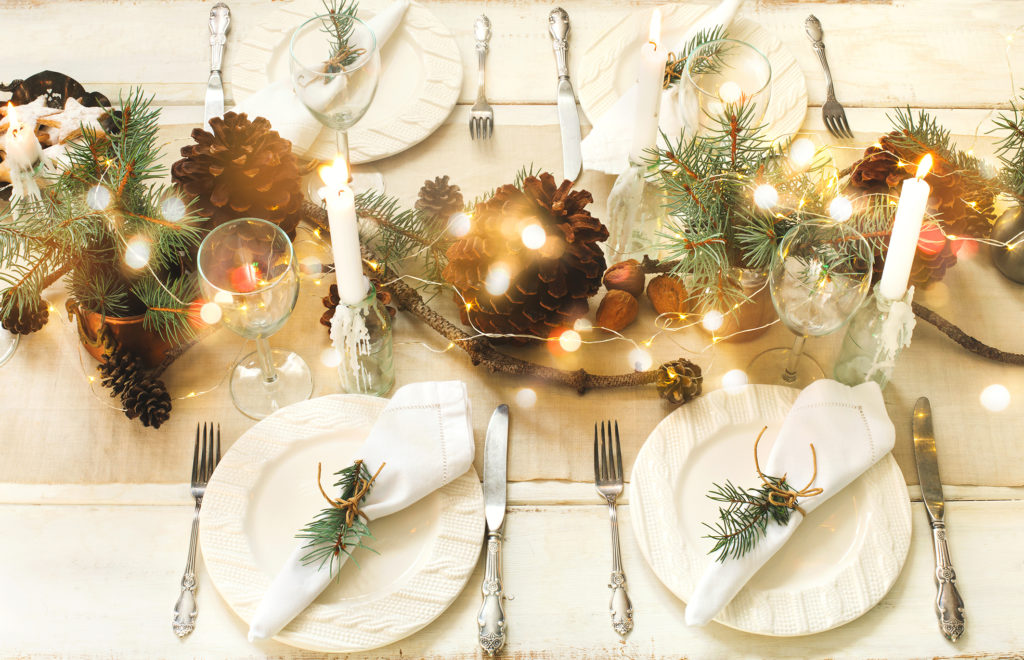 Wicker & Wood Galore
Another great addition to make your house feel warm, rustic, and cozy this holiday season is to add wicker and wood elements throughout the house. Whether this be wicker baskets to hold extra blankets in the living room, wicker sleds to hold firewood, or wicker tree skirt. Antique wooden chairs, wooden sleds, and wooden rocking chairs are also a great rustic touch.
Cozy Up with Plaid Blankets
Replace your every day throw blankets in the living room with plaid throw blankets this holiday season. Plaid can transform your home into a cozy farmhouse in the matter of seconds. Not to mention, plaid blankets will help add texture and patterns to your Christmas living room decor.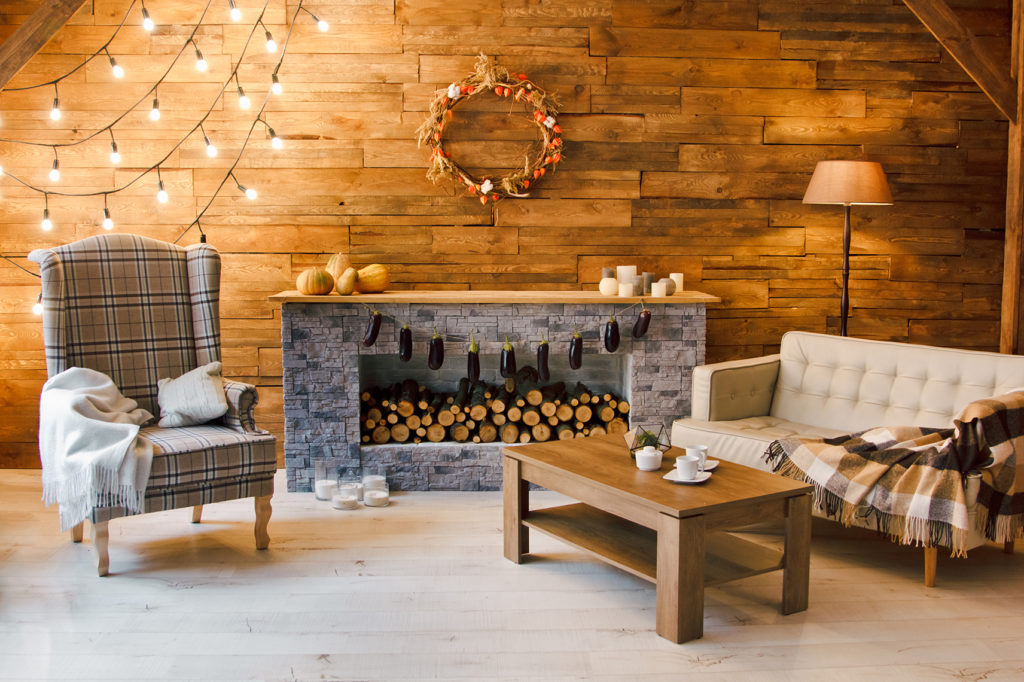 Outdoorsy Christmas Mantle
Similar to the rustic Christmas table centerpieces, you can bring outdoor elements to your living room as well. A Christmas wreath made out of tree branches and twigs, wooden lanterns, pine garlands, mini cardboard pine tree cutouts, and pinecones spread across the mantle are sure to add a rustic feel to your home. All of these elements will allow you to bring the joys of the outdoors to your home, without having to go into the cold Minnesota weather.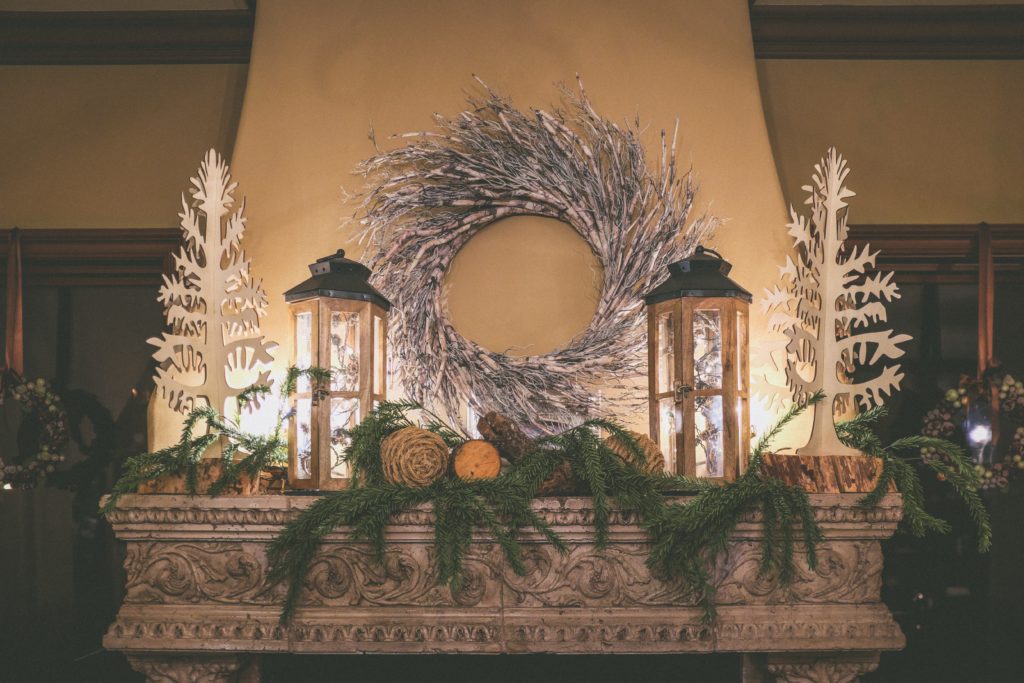 ---
John T. Wanninger is a professional in Minneapolis real estate, specializing in luxury properties and condominiums. John Wanninger leads the JTW Partners group at Lakes Sotheby's International Realty.
To view all available real estate listings and properties in Minneapolis and the Twin Cities metro area, CLICK HERE. Contact John to set up an appointment or list your house for sale in Minneapolis today.
Follow John Wanninger's social media! Stay up to date with his Instagram and Facebook.